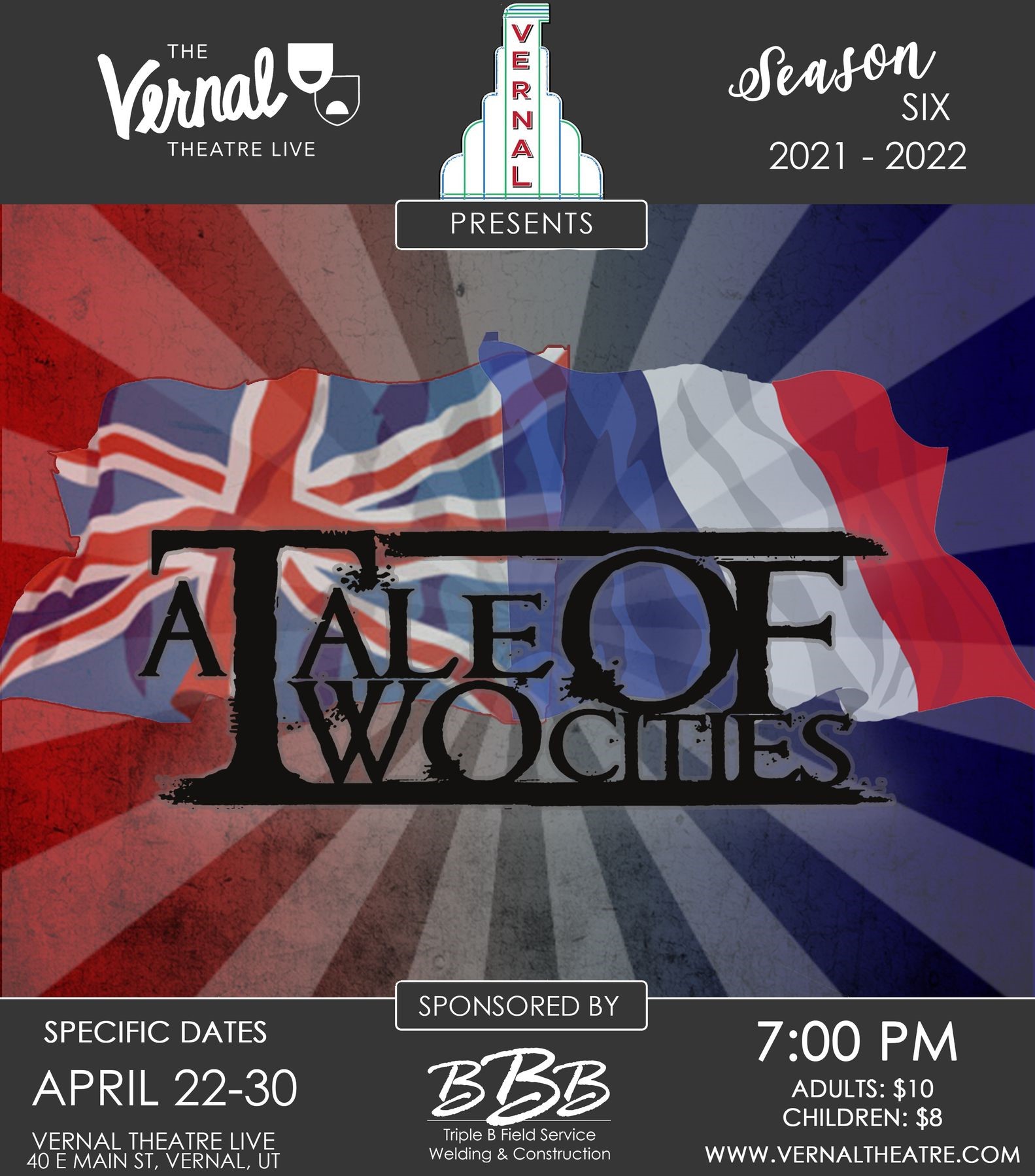 Now Playing
a tale of two cities
SPONSORED BY: TRIPLE B FIELD SERVICES
MUSICAL – The tale of love, revolution and redemption. Two men in love with the same woman. Two cities swept up in revolution. One last chance for a man to redeem his wasted life and change the world. Based on Charles Dickens' masterpiece, A Tale of Two Cities is a musical that focuses on the love triangle between young beauty Lucie Manette, French aristocrat Charles Darnay and drunken English cynic Sydney Carton – all caught in the clutches of the bloody French Revolution. 
*Contains scenes depicting death and mob violence. Recommended for ages 8 and up.
Approximate Duration: 2 Hours 30 Minutes
Ticket Policies
All sales are final. Please double-check the event date(s) selected. No refunds or exchanges.
All patrons, including children, must have their own ticket. Vernal Theatre: LIVE cannot permit lap sitters.
All seating is assigned. Purchased ticket is good only for the date and seat specified on the ticket.
Doors open 30 minutes before show time. Patrons arriving after the start of the performance will be seated at the discretion of management. Late-comers may have their seats reassigned.
Shows begin at 7pm for all evening performances, 2pm for matinees (where applicable).
A Tale of Two Cities – April Cast List
A HUGE thank you to the incredible people who auditioned for 'A Tale of Two Cities' this week! 
From the director:
"This was one of the hardest casting decisions I have ever had to make. Thank you for being so incredibly talented and willing to share with us. Thank you so much for being excited about this show. I am so grateful for you and for your bravery – know we see you and you are amazing. Auditions are not easy and you showed up with grace and passion that was powerful. I genuinely respect each of you. Thank you."
If you were not cast, please audition for us again or consider helping on the production team if you are interested.  We hope to see you at the theatre soon.
If your name is on the list below, email vernaltheatre@gmail.com to accept your role in the production no later than 12pm on Monday, February 28. When you email the theatre, you will receive additional information about the first readthrough, receiving your script, etc. Thank you!
MEN 
Dr. Manette – Parry Peacock
Ernest Defarge – Daniel Jackson
Sydney Carton – Aaron Wood
Charles Darnay – Mike Sorenson
Mr. Jarvis Lorry – Jesse Barker
John Barsad – TC George
Jerry Cruncher – Jordan Wagner
Marquis St Evremonde – Grant Stoddard
Gaspard – Cayden Wells 
Gabelle – Bryce Poulson
Stryver – Cayden Bristol
Jaques – Kevin Bingham
Little Gaspard – Grant Owens, Jackson Owens
WOMEN
Madame Defarge – Rachel Wells
Lucie Manette – Korinne Peacock
Miss Pross – Claire Owens
Little Lucie – Leah Wells, Reygan Laub
Seamstress – Eliza Anderson
Woman 1 – Alyssa Turner
Woman 2 – Sundrina Barlow
Woman 3 – Emma Whiteside
Woman 4 – Kimberlie Nicoll
Woman 5 – Sadie Dudley
Woman 6 – Erin Watkins Smith
Woman 7 – Mariah Ottesen
Woman 8 – Kristin Meanea
Woman 9 – Emma Helco
Production Team
Director – Nashelle Jackson
Stage Manager – Isaac Merrick
Assistant Stage Manager – Karen Laub
Music Director – Karilynne Pearson
Assistant Music Director – Ezra McHaley
Costumes – Stacey Stamper, Claire Owens
Props – McKenna Christiansen