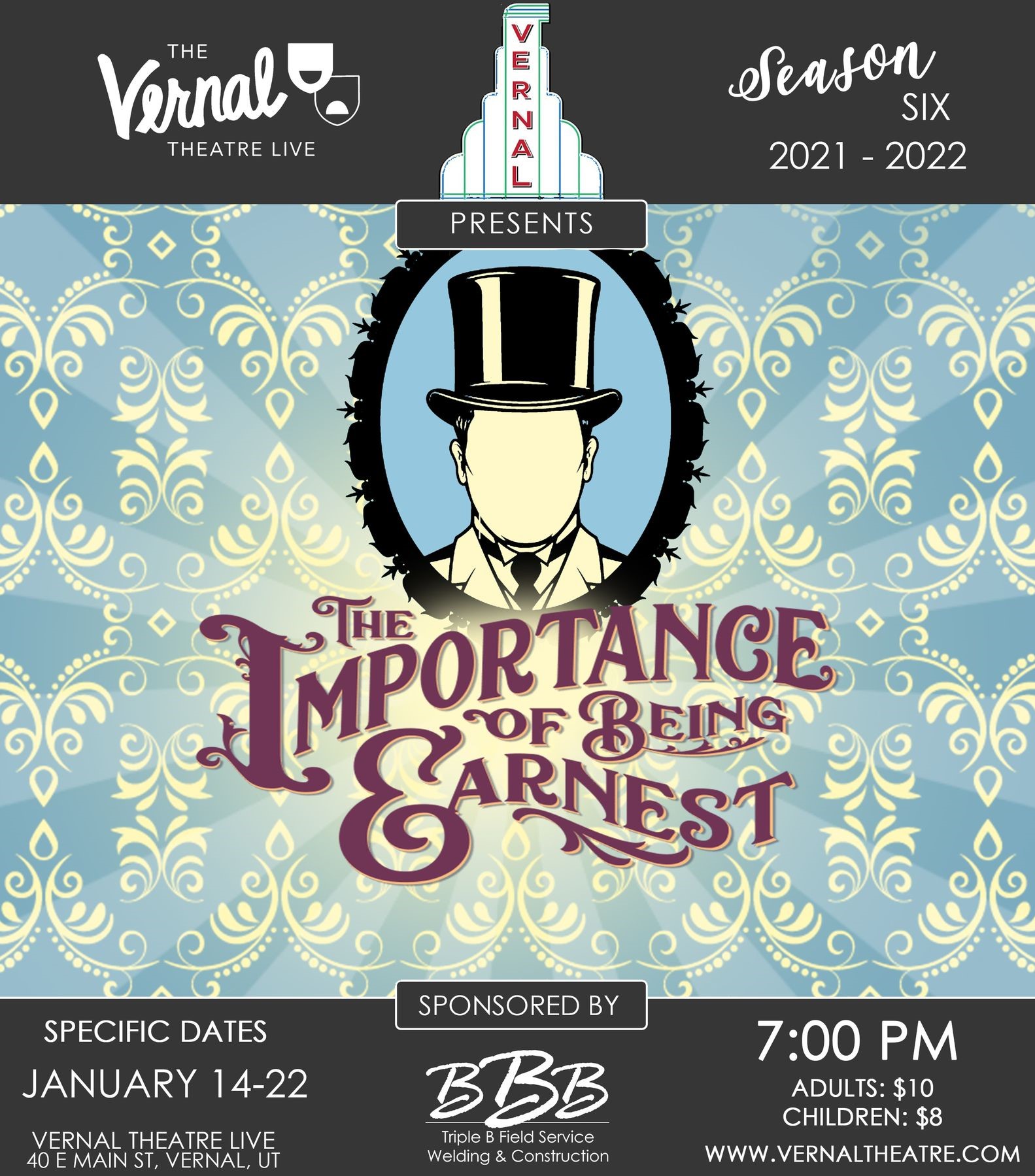 Now Playing
the IMPORTANCE OF BEING EARNEST
SPONSORED BY: TRIPLE B FIELD SERVICES
COMEDY –  A Trivial Comedy for Serious People, a play by Oscar Wilde.
Jack Worthing, a carefree young gentleman, is the inventor of a fictitious brother, "Ernest," who is an excuse to leave the country from time to time and journey to London, where Jack stays with Algernon Moncrieff. Algernon has a cousin, Gwendolen, with whom Jack is deeply in love. During his London sojourns, John, under the name Ernest, has won Gwendolen's love, for she strongly desires to marry someone with the confidence-inspiring name of Ernest.
Returning to the country home where he lives with his ward Cecily Cardew and her governess Miss Prism, Jack finds that Algernon has also arrived under the identity of the nonexistent brother Ernest. Algernon falls madly in love with the beautiful Cecily, who has long been enamored of the mysterious, fascinating brother Ernest.
With the arrival of Gwendolen & her mother, chaos erupts and hilarity ensues.
Approximate Duration: 2 Hours 30 Minutes
Ticket Policies
All sales are final. Please double-check the event date(s) selected. No refunds or exchanges.
All patrons, including children, must have their own ticket. Vernal Theatre: LIVE cannot permit lap sitters.
All seating is assigned. Purchased ticket is good only for the date and seat specified on the ticket.
Doors open 30 minutes before show time. Patrons arriving after the start of the performance will be seated at the discretion of management. Late-comers may have their seats reassigned.
Shows begin at 7pm for all evening performances, 2pm for matinees (where applicable).
The Importance of Being Earnest – January Cast List
A HUGE thank you to the incredible people who came out for 'The Importance of Being Earnest' auditions this week! We were so impressed with everyone who came. If you were not cast, please audition for us again or consider helping on the production team if you are interested. We are so grateful for your time and sharing your talents with us. We hope to see you at the theatre soon.
If your name is on the list below, email vernaltheatre@gmail.com to accept your role in the production no later than 12pm on Monday, October 22. When you email the theatre, you will receive additional information about the first readthrough, receiving your script, etc. Thank you!
Jack "Ernest" Worthing – Spencer Johnson
Algernon Moncrieff – TC George
Gwendolen Fairfax – Hannah Evans
Cecily Cardew – Lilly Spainhower
Reverend Canon Chasuble – Kevin Bingham
Miss Prism – Kristin Meanea
Lady Bracknell – Karen Hatch
Lane / Housekeeper (Cecily Understudy) – Rose Johnson
Merriman / Mr. Grisby – Nathan Pannell
Production Team
Director – Myndee Hanberg
Stage Manager – Tammy Spaulding
Props – Emily Walker