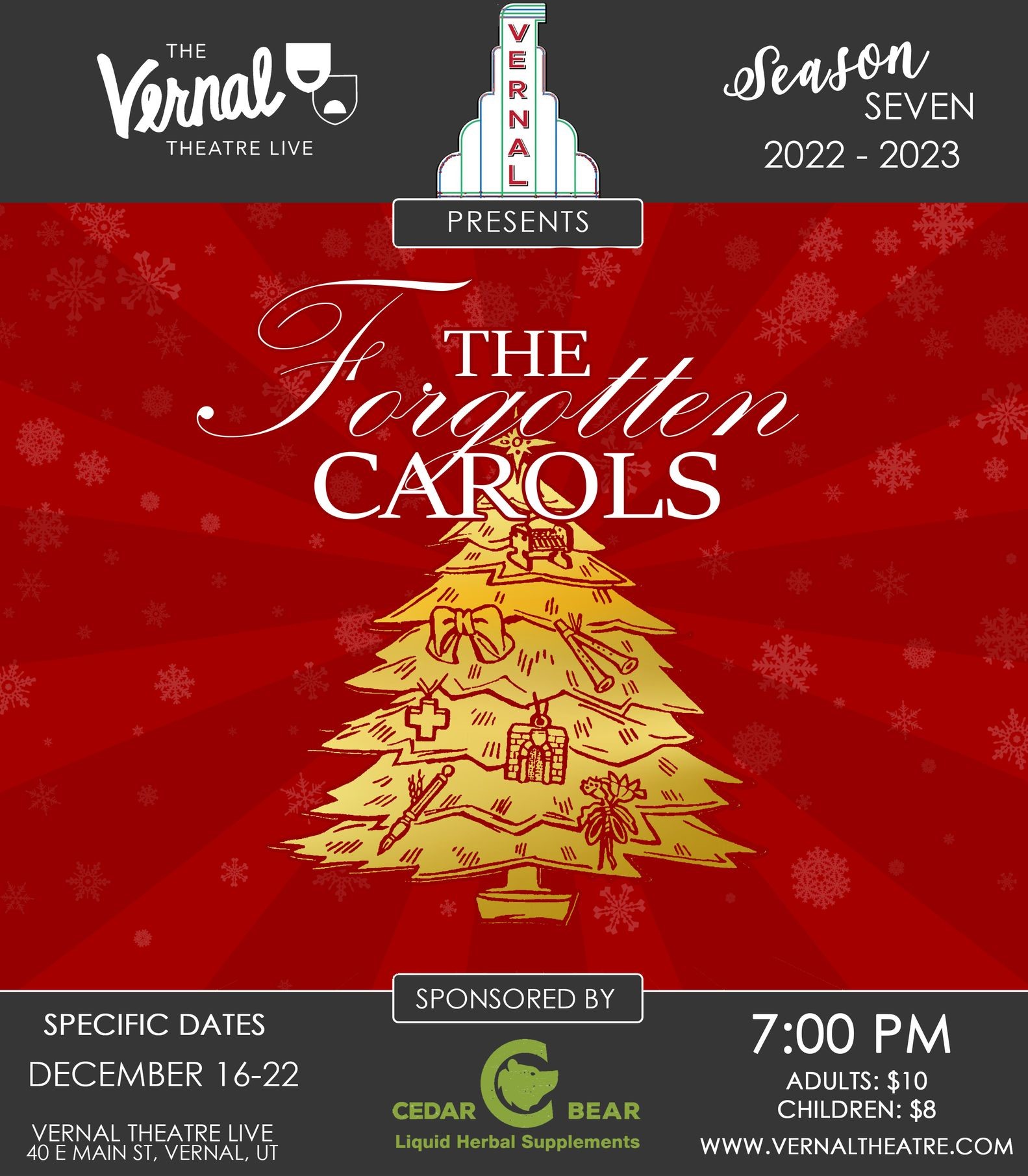 December 16-22
the forgotten carols
SPONSORED BY: CEDAR BEAR LIQUID HERBAL SUPPLEMENTS
MUSICAL – The Forgotten Carols stage performance tells the story of Connie Lou, a nurse whose empty life is changed when Uncle John, a new patient she is attending, recounts the story of Christ's birth as told by little known characters in the nativity story. The accounts from the Innkeeper, the Shepherd and others help the nurse discover what the world has forgotten about Christmas, ultimately encouraging her to open her heart to the joy of this special season. Told by an all-local cast!
Approximate Duration: 2 Hours 5 Minutes
Ticket Policies
All sales are final. Please double-check the event date(s) selected. No refunds or exchanges.
All patrons, including children, must have their own ticket. Vernal Theatre: LIVE cannot permit lap sitters.
All seating is assigned. Purchased ticket is good only for the date and seat specified on the ticket.
Doors open 30 minutes before show time. Patrons arriving after the start of the performance will be seated at the discretion of management. Late-comers may have their seats reassigned.
Shows begin at 7pm for all evening performances, 2pm for matinees (where applicable).
The Forgotten Carols – December Cast List
A HUGE thank you to the incredible people who auditioned for 'The Forgotten Carols' this week! We were so impressed by the turn out and the amazing quality of people who we have in the Basin. Thank you for sharing your talent with us.
If you were not cast, please audition for us again or consider helping on the production team if you are interested.  We hope to see you at the theatre soon.
If your name is on the list below, email vernaltheatre@gmail.com to accept your role in the production no later than 12pm on Saturday, October 22. When you email the theatre, you will receive additional information about the first readthrough, receiving your script, etc. Thank you!
CAST LIST
John- Dan Hatch
Constance- Ashley Tappana
Sarah- Crystal Thomas
Dr. Halifax- Grant Stoddard
Lillian,Policewoman, Jail Clerk, Meghan- Korinne Peacock
Man in Uniform, Cabby, Homeless Man, Jerry- Daniel Jackson
Choir
Aurora Wallis
Derek Hopper
Jinger Axelson
Kevin Remington
Lucas Harrison
Meredith Cox
Parry Peacock
Ruth Ann Ray
Production Team
Director / Music Director – Danni Harrison
Assistant Director – Trisha Sorenson
Stage Manager – Holly Allred
Assistant Stage Manager – Aurie Harrison
Costumes – Carly Wilson
Props – Kathryn Peacock