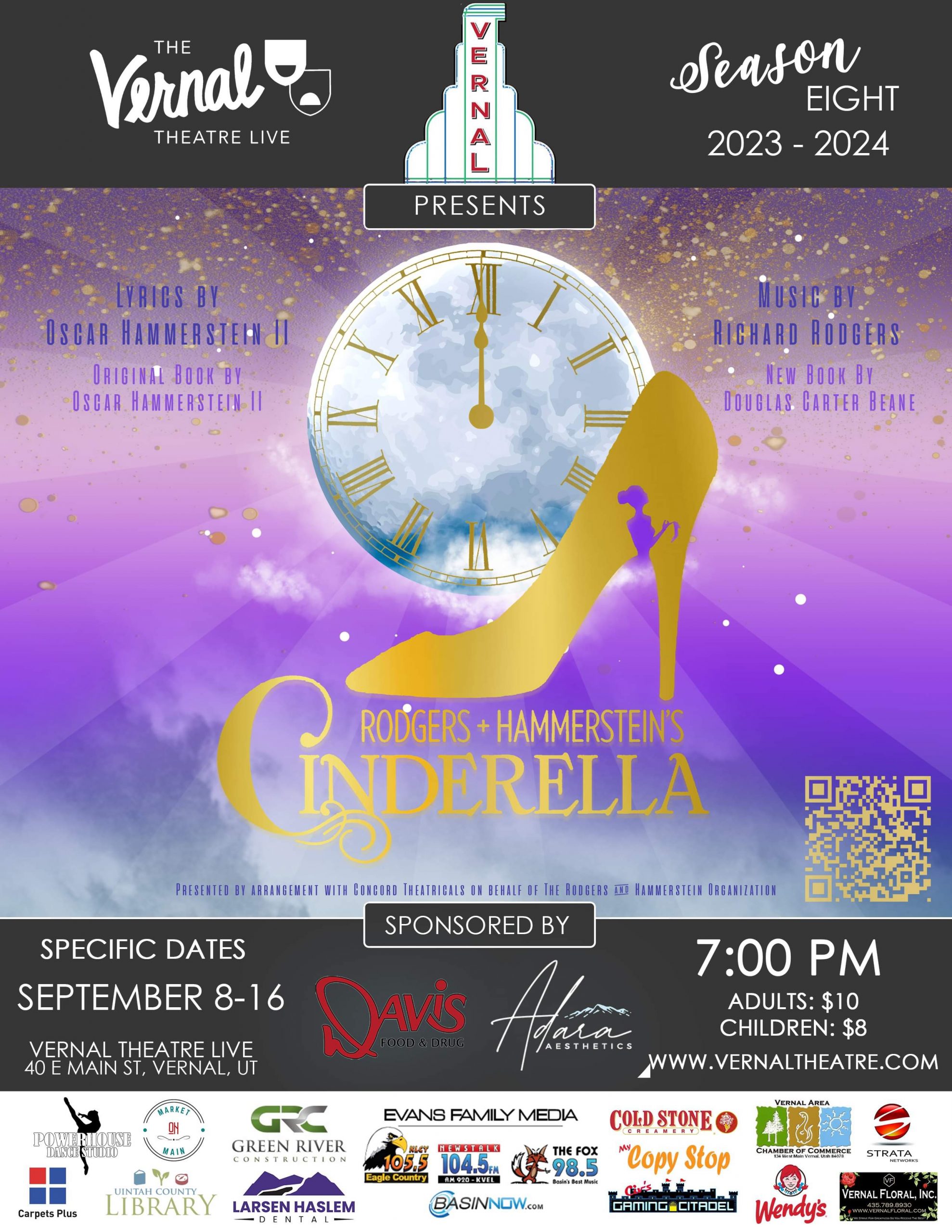 sEPTEMBER 8-16
CINDERELLA
SPONSORED BY:  DAVIS FOOD & DRUG and ADARA AESTHETICS
MUSICAL – Rodgers + Hammerstein's Cinderella is the new Broadway adaptation of the classic musical. This contemporary take on the classic tale features Rodgers & Hammerstein's most beloved songs, including "In My Own Little Corner," "Impossible/It's Possible" and "Ten Minutes Ago," alongside an up-to-date, hilarious and romantic libretto by Tony Award nominee Douglas Carter Beane.
Approximate Duration: 2 Hours 20 Minutes
There are flashing lights in this production.
Ticket Policies
All sales are final. Please double-check the event date(s) selected. There are no refunds or exchanges.
All patrons, including children, must have their own ticket. Vernal Theatre: LIVE cannot permit lap sitters.
All seating is assigned. Purchased ticket is good only for the date and seat specified on the ticket.
Doors open 30 minutes before show time. Patrons arriving after the start of the performance will be seated at the discretion of management. Late-comers may have their seats reassigned.
Shows begin at 7pm for all evening performances, 2pm for matinees (where applicable).
Cinderella – September Cast List
A HUGE thank you to all of the incredible people who came out for  auditions for 'Cinderella' this week!  We were delighted to see so many of you – many new faces and many familiar.  Thank you for coming.
Unfortunately, we could not cast everyone who auditioned. If you were not cast, please audition for us again! Or consider helping on the production team if you are interested. We are so grateful for your time and sharing your talents with us. You are amazing. We hope to see you at the theatre soon.
From the director: "Thank you to all who auditioned! Thank you for sharing your dreams with us, for being vulnerable, and for opening yourself up. You are talented and beautiful! Keep an eye on your dreams and don't forget to find the magic along the way!!" -Mike Sorenson
If your name is on the list below, email vernaltheatre@gmail.com to accept your role in the production no later than 12pm on Saturday, July 22. Those listed as ensemble – please note that there are several parts that have not yet been assigned. Those will be assigned during the first week of rehearsals. Thank you for your patience. When you email the theatre, you will receive additional information about the first readthrough, receiving your script, etc. Thank you!
Ella – Megan Pearson
Topher – Isaac Chock
Lord Pinkelton – Landyn Anderton
Sebastian – TC George
Marie – Karilynne Pearson
Jean Michel – Preston Barker
Madame – Crystal Thomas
Gabrielle – Stephanie Barker
Charlotte – Aurie Harrison
Fox/Footman – Ashlyn Adams
Raccoon/Driver – Maycee Allred
Lady of Ridicule – Stacey Stamper
KNIGHTS / LORDS / ENSEMBLE
Jaxon Hyde
Justin Allred
Kevin Gittins
Parry Peacock
KNIGHTS / ENSEMBLE
Ashlyn Adams
Keira Wallis
Madi Miller
Mariah Ottesen
Maycee Allred
LADIES OF COURT / ENSEMBLE
Ashley Slaugh
Aurora Wallis
Jaedee Walker
Korinne Peacock
Rachel Wells
Stacey Stamper
Trina Christensen

Production Team
Director – Mike Sorenson
Stage Manager – Holly Allred
Music Director – Danni Harrison
Choreographer – Dakota Mecham
Assistant Choreo – Nashelle Jackson
Props – Rachel Fuchs
Costumes – Trisha Sorenson, Claire Owens