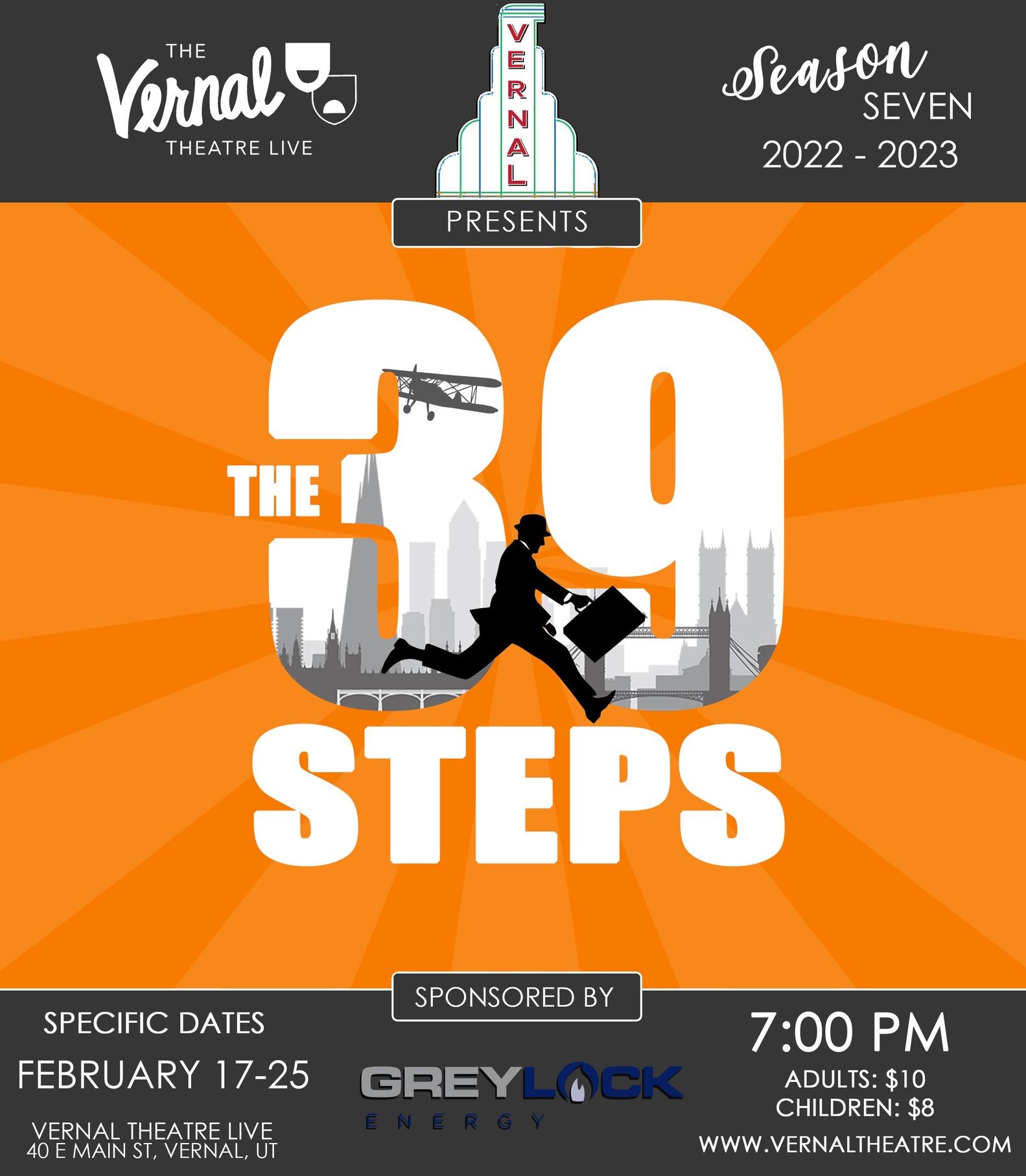 February 17-25
THE 39 STEPS 
SPONSORED BY: GREYLOCK ENERGY
PLAY (COMEDY) – Mix a Hitchcock masterpiece with a juicy spy novel, add a dash of Monty Python and you have The 39 Steps, a fast-paced whodunit for anyone who loves the magic of theatre! In The 39 Steps, a man with a boring life meets a woman with a thick accent who says she's a spy. When he takes her home, she is murdered. Soon, a mysterious organization called "The 39 Steps" is hot on the man's trail in a nationwide manhunt that climaxes in a death-defying finale! Don't forget over 150 zany characters (played by a cast of four), an onstage plane crash, handcuffs, missing fingers, and some good old-fashioned romance. A riotous blend of virtuoso performances and wildly inventive stagecraft, The 39 Steps amounts to an unforgettable evening of pure pleasure!
Approximate Duration: 2 Hours 15 Minutes
Ticket Policies
All sales are final. Please double-check the event date(s) selected. There are no refunds or exchanges.
All patrons, including children, must have their own ticket. Vernal Theatre: LIVE cannot permit lap sitters.
All seating is assigned. Purchased ticket is good only for the date and seat specified on the ticket.
Doors open 30 minutes before show time. Patrons arriving after the start of the performance will be seated at the discretion of management. Late-comers may have their seats reassigned.
Shows begin at 7pm for all evening performances, 2pm for matinees (where applicable).
The 39 Steps – February Cast List
Thank you so much to everyone who auditioned for 'The 39 Steps' this week!  We were delighted to see you. Thank you for being so excited about this show. 
Unfortunately, we could not cast everyone who auditioned. If you were not cast, please audition for us again! Or consider helping on the production team if you are interested. We are so grateful for your time and sharing your talents with us. You are amazing. We hope to see you at the theatre soon.
If your name is on the list below, email vernaltheatre@gmail.com to accept your role in the production no later than 12pm on Monday, December 12. When you email the theatre, you will receive additional information about the first readthrough, receiving your script, etc. Thank you!
Richard Hannay – Kevin Remington
Annabella / Pamela / Margaret – Andrea Wardle
Clown 1 – David Gale
Clown 2 – Andrew Bentley
Foley Artist – Sherry Brokaw
Production Team
Director – Nashelle Jackson
Assistant Director – Karen Laub
Stage Manager – Korinne Peacock
Props – Jen Curtis