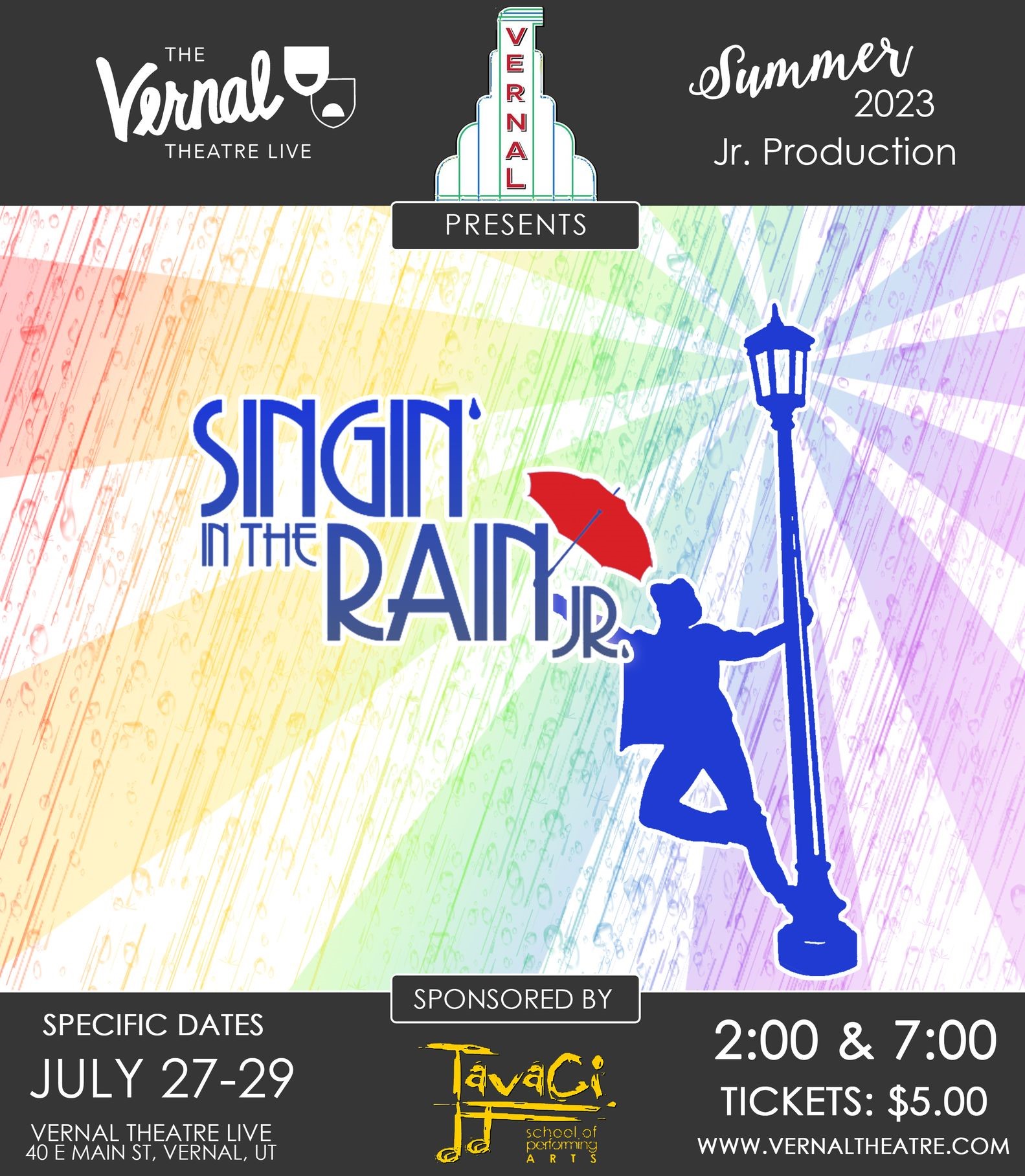 july 26-29
singin' in the rain, jr 
SPONSORED BY: Vernal's TaVaci School of Performing Arts
MUSICAL – The "Greatest Movie Musical of All Time" is faithfully and lovingly adapted by Broadway legends Betty Comden and Adolph Green, from their original award-winning screenplay in Singin' in the Rain JR. Hilarious situations, snappy dialogue and a hit-parade score of Hollywood standards make Singin' in the Rain JR. a guaranteed good time for performers and audience members alike.
Singin' in the Rain JR. has all the makings of a Tinseltown tabloid headline — the starlet, the leading man and a love affair that could change lives and make or break careers! In silent movies, Don Lockwood and Lina Lamont are a hot item, but behind the scenes, things aren't always as they appear on the big screen! Meanwhile, Lina's squeaky voice might be the end of her career in "talking pictures" without the help of a talented young actress to do the talking and singing for her.
Approximate Duration: 75 Minutes
There are TWO CASTS for this production:
BLUE CAST performs Wed PM, Fri PM and
Sat AFT.
YELLOW CAST performs Thu PM, Fri AFT and Sat PM.
If you have a specific cast member you would like to see, please make sure you purchase tickets for the correct performance.
Ticket Policies
All sales are final. Please double-check the event date(s) selected. There are no refunds or exchanges.
All patrons, including children, must have their own ticket. Vernal Theatre: LIVE cannot permit lap sitters.
All seating is assigned. Purchased ticket is good only for the date and seat specified on the ticket.
Doors open 30 minutes before show time. Patrons arriving after the start of the performance will be seated at the discretion of management. Late-comers may have their seats reassigned.
Shows begin at 7pm for all evening performances, 2pm for matinees (where applicable).
Singin in the Rain JR Cast List
Congratulations to our new cast!
To those who didn't get cast this time: We are so sorry that we couldn't cast everyone – thank you for showing up and being brave and giving your very best. Please come and audition for us again. We loved seeing you and would love to use you in another show.
To those who are on the list below: We are so excited to work with you all. Remember the MANDATORY Parent Meeting Wednesday, July 5 beginning promptly at 6:30pm with the first readthrough immediately following at 7pm. A parent/guardian MUST be in attendance for every student. The doors will open at 6:15pm. The participation fee is DUE at the meeting.
NOTE: Some boys have been single cast for this production. If your student can NOT be single cast, please email the theatre so we can make arrangements.
Please email vernaltheatre@gmail.com and let us know if you would prefer a digital copy or CD of the rehearsal tracks.
We are off on an exciting journey!
Wed / Fri PM / Sat AFT CAST (Blue)
(in order of appearance)
DORA BAILEY – Miriam Pena                    
DON LOCKWOOD – Seth Haslem                        
LINA LAMONT – Grayson Cox                         
COSMO BROWN – Bronson Merrill                   
ROZ  –  Jayna Christensen                   
R.F. SIMPSON – Haiden Gaskill                               
KATHY SELDEN – Icelynn MacLee                  
POLICEMAN – Eligh Richardson
DEXTER – Tyler Clark 
BUTLER  – Dylan Remington
STAGEHAND #1 – Aeson Pierson
STAGEHAND #2 – Karter Roop
CHORUS GIRL #1  – Jaidyn Batty                                    
CHORUS GIRL #2 – Ruth Spackman                           
1ST ASSISTANT – Avery Wood                                   
2ND ASSISTANT – Jaxon Hyde 
3RD ASSISTANT  – Daveney Batty 
MISS DINSMORE – Adalynn Larsen                               
TEACHER  – Bradley Stoddard 
STUDENT #1  – Rosalie Rinderknecht                    
STUDENT #2  – Nevaeh Merrill                               
SAM – Peter Spackman                             
ZELDA – Bailey Brown                                  
BROADWAY MELODY HOST – Helen Spackman                          
BROADWAY DANCER #1 –  Addison MacLee                             
BROADWAY DANCER #2 –  Leah Wells                                      
CROWD / MOVIE-GOERS – 
Korinne Abplanalp                     
Lenna Grammer    
Hallie Morton  
Thu / Fri AFT / Sat PM CAST (Yellow)
(in order of appearance)
DORA BAILEY – Kaidyn Bentley
DON LOCKWOOD – Tyson Ottley
LINA LAMONT – Rozlynn Mitchell
COSMO BROWN – Bronson Merrill
ROZ – RyLeigh Slaugh
R.F. SIMPSON – Haiden Gaskill
KATHY SELDEN – Taysia Tello
POLICEMAN – Eligh Richardson
DEXTER – Tyler Clark
BUTLER – Dylan Remington
STAGEHAND #1 – Aeson Pierson
STAGEHAND #2 – Karter Roop
CHORUS GIRL #1 – Ella Ufford
CHORUS GIRL #2 – Sarah Putnam
1ST ASSISTANT – Brooklyn Blankenagel
2ND ASSISTANT – Jaxon Hyde
3RD ASSISTANT – Zoey Bentley
MISS DINSMORE – Gwen Barker
TEACHER – Bradley Stoddard
STUDENT #1 – Sadie Johnson
STUDENT #2 – Sammi Ottley
SAM – August Gaskill
ZELDA – Elliot Chapa
BROADWAY MELODY HOST – Audrey Young
BROADWAY DANCER #1 – Celeste Bolton
BROADWAY DANCER #2 – Grace Gale
CROWD / MOVIE-GOERS – 
Eva Pipes
Ava Bentley
Olivia Bnlankenagel
Production Team
Director – Nashelle Jackson
Stage Manager – Emily Walker
Assistant Stage Manager – Isaac Merrick
Music Director – Karilynne Pearson
Choreographer – Megan Pearson
 Props – Rachel Fuchs
Costumes – Ashley Slaugh