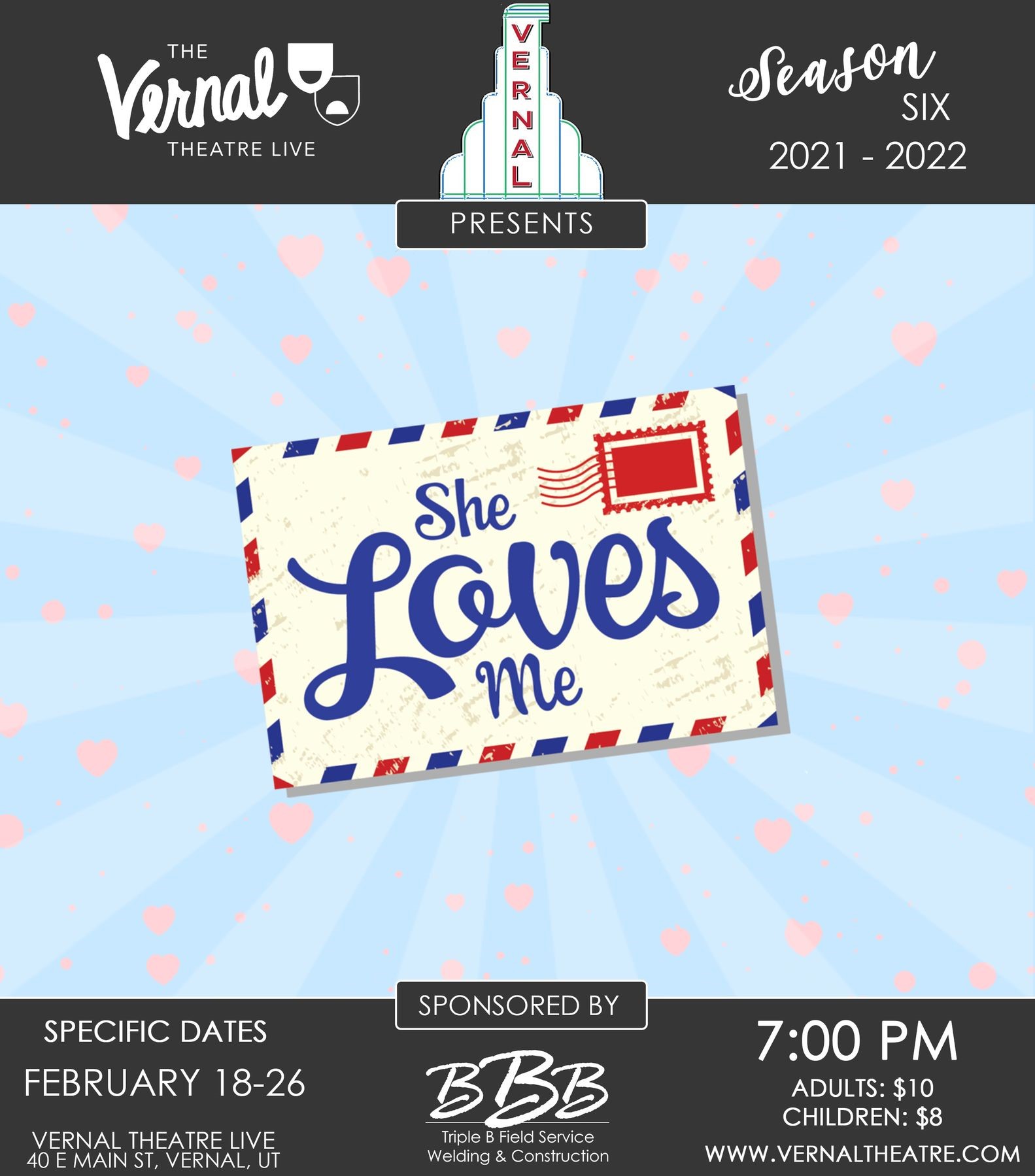 SPONSORED BY: TRIPLE B FIELD SERVICE
MUSICAL – Considered by many to be the most charming musical ever written, She Loves Me is a warm romantic comedy with an endearing innocence and a touch of old-world elegance. The Mikos Lazlos play Parfuemerie, on which it is based, has inspired many adaptations, including the beloved film You've Got Mail starring Meg Ryan and Tom Hanks.
Set in a 1930s European perfumery, we meet shop clerks, Amalia and Georg, who, more often than not, don't see eye to eye. After both respond to a "lonely hearts advertisement" in the newspaper, they now live for the love letters that they exchange, but the identity of their admirers remains unknown. Join Amalia and Georg to discover the identity of their true loves… and all the twists and turns along the way!
Approximate Duration: 2 Hours 15 Minutes
Ticket Policies
All sales are final. Please double-check the event date(s) selected. No refunds or exchanges.
All patrons, including children, must have their own ticket. Vernal Theatre: LIVE cannot permit lap sitters.
All seating is assigned. Purchased ticket is good only for the date and seat specified on the ticket.
Doors open 30 minutes before show time. Patrons arriving after the start of the performance will be seated at the discretion of management. Late-comers may have their seats reassigned.
Shows begin at 7pm for all evening performances, 2pm for matinees (where applicable).
She Loves Me – February Cast List
A HUGE thank you to each and every person who came out for auditions for 'She Loves Me' this week!  Casting is always a difficult process and we want you to know that we were blown away by the talent we have seen.  If you were not cast, please audition for us again or consider helping on the production team if you are interested. We are so grateful for your time and sharing your talents with us. We hope to see you at the theatre soon.
If your name is on the list below, email vernaltheatre@gmail.com to accept your role in the production no later than 12pm on Monday, January 3. When you email the theatre, you will receive additional information about the first readthrough, receiving your script, etc. Thank you!
Please Note: There are still many speaking and singing parts that have not been assigned and will be given at a later date. Ensemble members will double as different characters and will need to be hardworking and adaptable.

Ladislov Sipos – Daniel Jackson
Arpad Laszlo – Woodrow Snow
Ilona Ritter – Trisha Sorenson
Steven Kodaly – Isaac Merrick
Georg Nowack – Andrew Bentley
Mr. Maraczek – Alan Peacock
Amalia Balish – Danni Harrison
Keller (A Detective) – Jason North
Waiter – Derek Meanea
Scott Olsen
Spencer Olsen
Brian Smith
List of Female Ensemble:
Eliza Anderson
MaKayla Anderson
Mallary Cottam
Sydnie Hanberg
Hannah Montgomery
Ruth Ann Ray
Production Team
Director – Amber Harrison
Assistant Director – Korinne Peacock
Stage Manager – Erin Smith
Music Director – MarKay Anderson
Assistant Music Director – Kimberlie Nicoll
Choreographer – Taunia Wheeler
Assistant Choreographer – Aurie Harrison
Props – Juli Miller