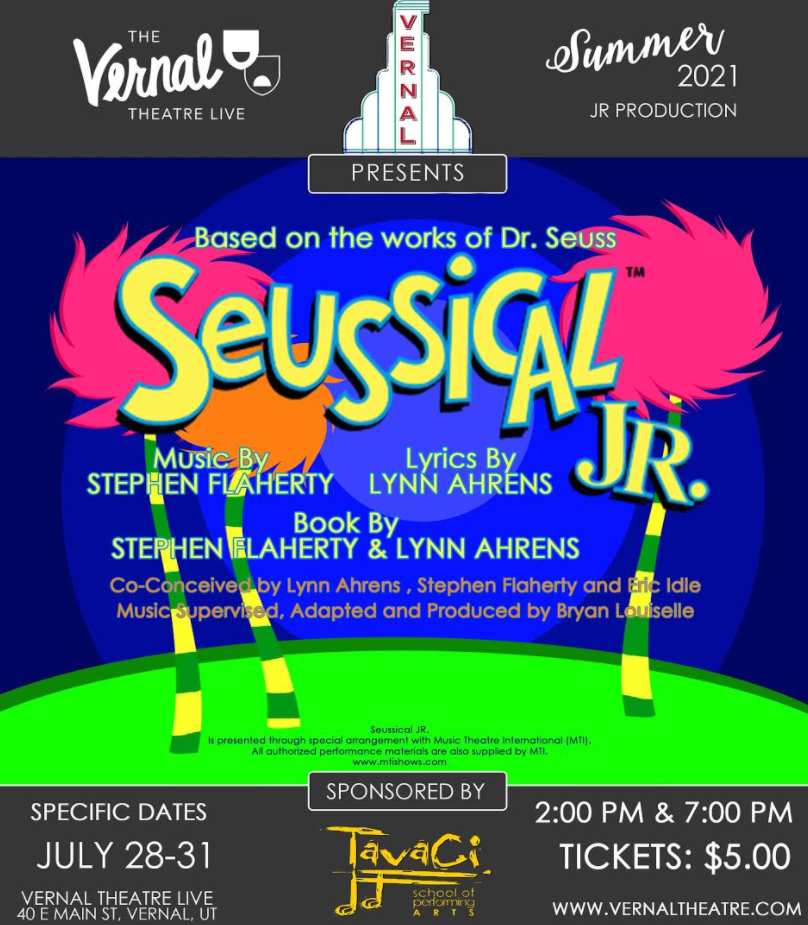 performances July 28 – July 31
seussical Jr.
 FORSPONSORED BY: Vernal's TaVaci School of Performing Arts
MUSICAL – Horton the Elephant, the Cat in the Hat and all of your favorite Dr. Seuss characters spring to life onstage in Seussical JR., a fantastical musical extravaganza from Tony-winners, Lynn Ahrens and Stephen Flaherty.
Transporting audiences from the Jungle of Nool to the Circus McGurkus, the Cat in the Hat narrates the story of Horton the Elephant, who discovers a speck of dust containing tiny people called the Whos. Horton must protect the Whos while also guarding an abandoned egg that's been left in his care, facing ridicule, danger and even a trial. Ultimately, the powers of friendship, loyalty, family and community are challenged and emerge triumphant!
There are TWO CASTS for this production. 
RED CAST performs Wed PM, Fri PM and Sat AFT.
BLUE CAST performs Thu PM, Fri AFT and Sat PM.
If you have a specific cast member you would like to see, please make sure you purchase tickets for the correct performance.
Congratulations to our new cast list! We are so excited to work with you all. Remember the MANDATORY Parent Meeting tonight beginning promptly at 6:30pm with the first readthrough immediately following at 7pm. A parent/guardian MUST be in attendance for every student. The doors will open at 6:15pm. The participation fee is DUE tonight.
We are off to the Jungle of Nool & Who-ville!
Thu / Fri AFT / Sat PM CAST (Blue)
Jojo – Helen Spackman
The Cat in the Hat – Gloria Steckler
Horton the Elephant – Jackson Meanea
Mr. Mayor – Joseph Hardin
Mrs. Mayor – Taysia Tello
Gertrude McFuzz – Alexis Anderson
Mayzie La Bird – Ashlyn Adams
Sour Kangaroo – Emmalee Woods
Young Kangaroo – Zoey Bentley
Wickershams – 
Bronson Merrill
Quinn Bigler
Alberto Gallego Garcia
Kian Tourstone
Bird Girls-
Hannah Poole
Jessley Sheffer
Brooklyn Batty
Kennadi Hunt
Anjali Anderson
Sarah Putnam
Judge Yertle the Turtle – Kiera Meanea
Vlad Vladikoff – Marina Gallego Garcia
The Grinch – Samuel Bigler
Thing 1 – McKell Young
Thing 2 – Brynlee Young
Ensemble (Whos / Fish) –
Bridger Steckler
Shaeffer Anderson
Megan Sheffer
Grace Sheffer
Samantha Evershed
Emerie Massey
MaKayla Sasse
Sahara Justice
Anne Stearmer
Wed / Fri PM / Sat AFT CAST (Red)
Jojo – Taylee Wells
The Cat in the Hat – Kaila Reynolds
Horton the Elephant – Alex Crane
Mr. Mayor – Landyn Anderton
Mrs. Mayor – Jana Young
Gertrude McFuzz – Cecilia Benjamin
Mayzie La Bird – Abrienne Schlaegel
Sour Kangaroo – Haylee White
Young Kangaroo – Reygan Laub
Wickershams – 
Kotah Gross
Bostin Reynolds
Ryan Bartholomeusz
Clara Jenkins
Celeste Bolton
Bird Girls – 
Breanna Girot
RyLeigh Slaugh
Icelynn Maclee
Addison Maclee
Leah Wells
Judge Yertle the Turtle – Riley Laub
Vlad Vladikoff – Sophia Hanifin
The Grinch – Deacon Richens
Thing 1 – Hallie Morton
Thing 2 – Saphira Whiting
Ensemble (Whos / Fish)-
Lee VanOostendorp
Bryce Walton
Brooklyn Blankenagel
Olivia Blankenagel
MaKayla Adams
Zoey Brokaw
Milly Richens
Molly Smith
Jayna Christensen