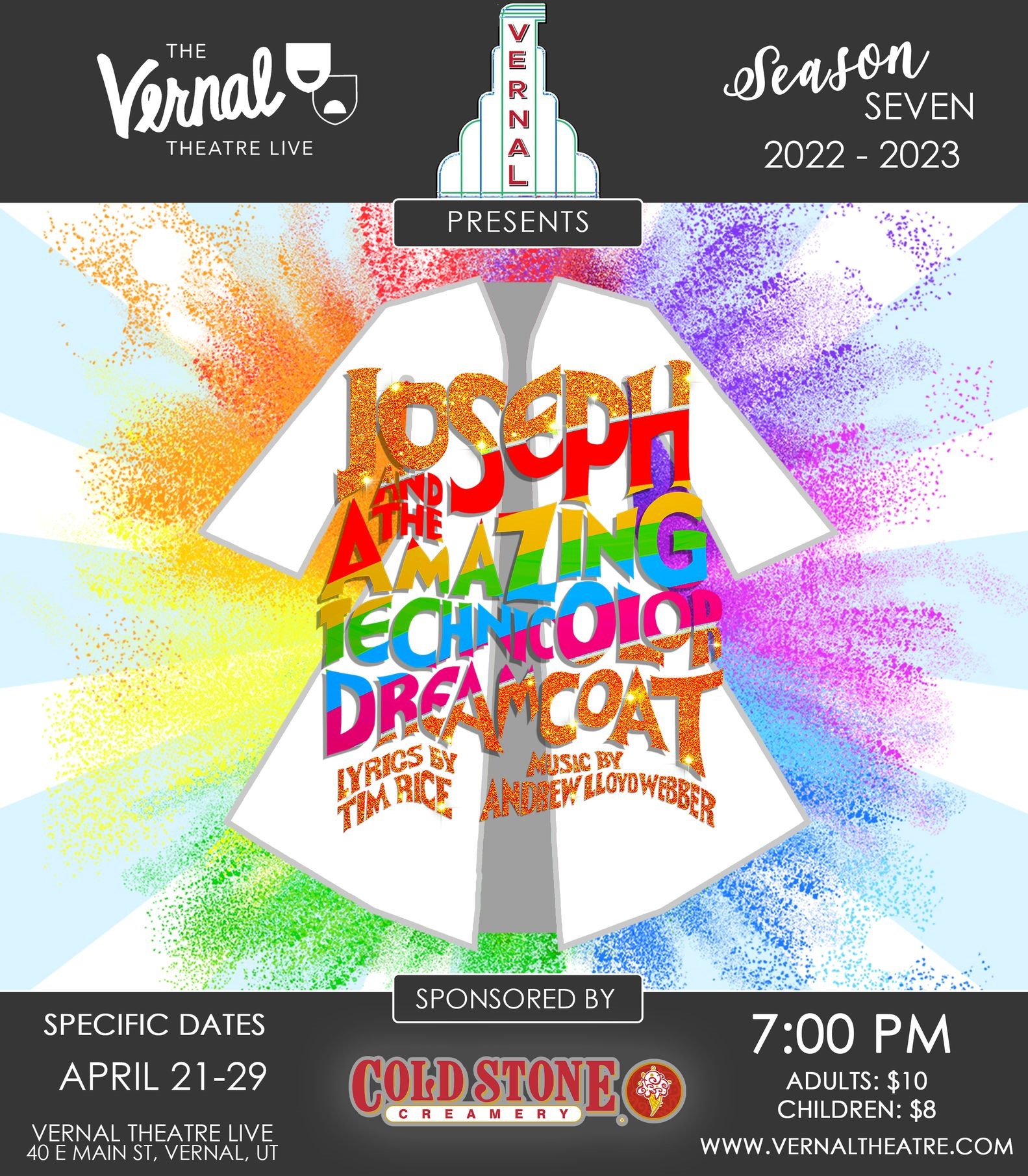 April 21-29
josEph and the amazing technicolor dreamcoat 
SPONSORED BY: COLD STONE CREAMERY
MUSICAL – One of the most enduring shows of all time, Joseph and the Amazing Technicolor Dreamcoat is a reimagining of the Biblical story of Joseph, his father Jacob, eleven brothers and the coat of many colors. Told entirely through song with the help of a main character Narrator, the musical follows preferred son Joseph. After being sold into slavery by his brothers, he ingratiates himself with Egyptian noble Potiphar, but ends up in jail after refusing the amorous advances of Potiphar's wife. While imprisoned, Joseph discovers his ability to interpret dreams, and he soon finds himself in front of the mighty but troubled, Elvis-inspired, Pharaoh. Joseph's solution to Egypt's famine elevates him to Pharaoh's right-hand man and reunites him with his family.
Approximate Duration: 2 Hours 10 Minutes
Due to overwhelming demand, we have added TWO more performances of "Joseph…" :
— Saturday, April 22 at 2pm
— Tuesday, April 25 at 7pm
 Fog machine and occasional strobe lighting effects are used in this production.
Ticket Policies
All sales are final. Please double-check the event date(s) selected. There are no refunds or exchanges.
All patrons, including children, must have their own ticket. Vernal Theatre: LIVE cannot permit lap sitters.
All seating is assigned. Purchased ticket is good only for the date and seat specified on the ticket.
Doors open 30 minutes before show time. Patrons arriving after the start of the performance will be seated at the discretion of management. Late-comers may have their seats reassigned.
Shows begin at 7pm for all evening performances, 2pm for matinees (where applicable).
Joseph and the Amazing Technicolor Dreamcoat – April Cast List
A HUGE thank you to all of the incredible people who came out for  auditions for 'Joseph and the Amazing Technicolor Dreamcoat' this week!  We were delighted to see so many of you – many new faces and many familiar. 
Unfortunately, we could not cast everyone who auditioned. If you were not cast, please audition for us again! Or consider helping on the production team if you are interested. We are so grateful for your time and sharing your talents with us. You are amazing. We hope to see you at the theatre soon.
If your name is on the list below, email vernaltheatre@gmail.com to accept your role in the production no later than 12pm on Monday, February 27. When you email the theatre, you will receive additional information about the first readthrough, receiving your script, etc. Thank you!
JOSEPH – Mike Sorenson
NARRATOR – Rachel Wells
JACOB – Matthew Wallis
REUBEN – Derek Hopper
SIMEON – Isaac Merrick
JUDAH – Justin Benson
LEVI – Alan Peacock
NAPHTALI / Pharaoh – Allen Steckler
ISAACHAR / Potiphar – Preston Barker
ASHER  / Butler- Parry Peacock
DAN / Baker – Derek Meanea
ZEBULUN – Woodrow Snow
GAD  – Daniel Jackson 
BENJAMIN – Sadie Wardle
Mrs. Potiphar: Stephanie Barker
WIVES
Andrea Wardle
Ashley Slaugh
Aurora Wallis
Emily Walker
Kathryn Peacock
Korinne Peacock
Kourtney Elder
Kristin Meanea
Mariah Ottesen
Stephanie Barker
ENSEMBLE
Courtnie Bartholomeusz
Grayson Cox
Jennedy Rust
Production Team
Director – Russell Pearson
Music Director – Karilynne Pearson
Choreographer – Megan Pearson
Stage Manager – Rachel Fuchs
Assistant Stage Manager – Sherry Brokaw
Costumes – Carly Wilson