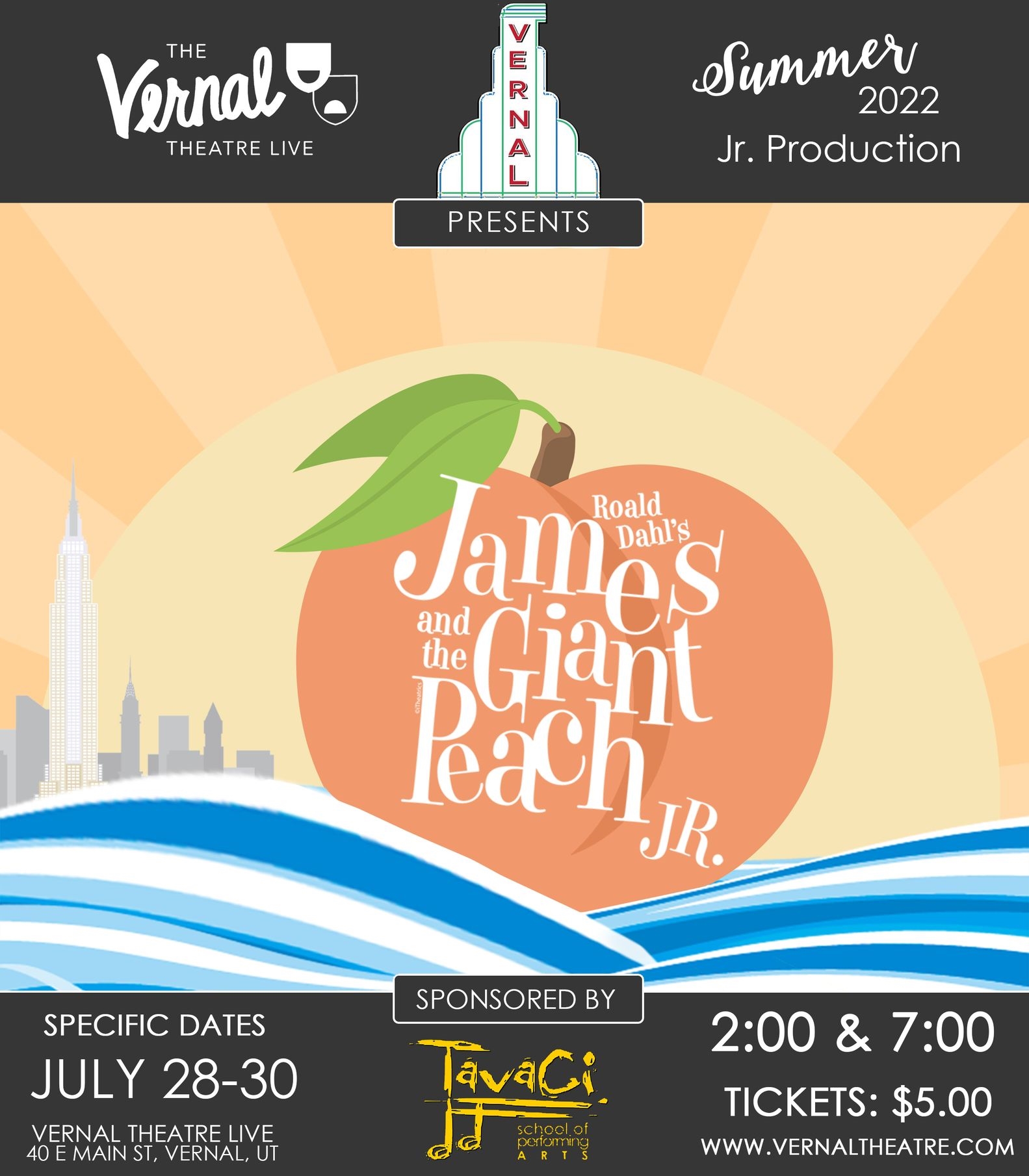 performances July 27 – July 30
james & the giant peach Jr.
SPONSORED BY: Vernal's TaVaci School of Performing Arts
MUSICAL – Based on one of Roald Dahl's most poignantly quirky stories, Roald Dahl's James and the Giant Peach JR. is a brand new take on this "masterpeach" of a tale.  Featuring a wickedly tuneful score and a witty and charming book, this adventurous musical about courage and self-discovery is destined to be a classic.
When James is sent by his conniving aunts to chop down their old fruit tree, he discovers a magic potion that grows a tremendous peach, rolls into the ocean and launches a journey of enormous proportions. James befriends a collection of singing insects that ride the giant piece of fruit across the ocean, facing hunger, sharks and plenty of disagreements along the way leading to family.
Approximate duration: 90 minutes 
Ticket Policies
All sales are final. Please double-check the event date(s) selected. No refunds or exchanges.
All patrons, including children, must have their own ticket. Vernal Theatre: LIVE cannot permit lap sitters.
All seating is assigned. Purchased ticket is good only for the date and seat specified on the ticket.
Doors open 30 minutes before show time. Patrons arriving after the start of the performance will be seated at the discretion of management. Late-comers may have their seats reassigned.
Shows begin at 7pm for all evening performances, 2pm for matinees (where applicable).
PRODUCTION TEAM
Director – Nashelle Jackson
Music Director – Karilynne Pearson
Stage Manager – Emily Walker
Assistant Stage Manager – Isaac Merrick
James & the Giant Peach JR Audition Information
AUDITION INFORMATION
Auditions will be held Saturday, July 2nd from 9am to 12pm. Callbacks will follow at 1pm.
Auditioners must be between the ages of 8 and 16.
A few things to note:
Audition

 

songs must be kept to 60 seconds or less. Time limit will be enforced.
You must bring your own accompanist or a track (no backup vocals) to sing along with.
Bring the completely filled out audition form with rehearsal calendar & cast rules contract to your

 

audition

. Be clear on your conflicts. Any conflicts reported after casting may result in a change of role. Auditioners will NOT be cast if there are three or more missed rehearsals on their audition form.
Performances are July 27 through July 30.
From the production team:
In the past, we have double-cast our summer junior shows. This year, due to extenuating circumstances, we are not planning to double-cast JAMES AND THE GIANT PEACH, JR. We reserve the right to change this plan at any time. For the conflict calendar, we have noted when 6 performances would be so that conflicts can be marked accordingly & accurately. However, four performances with a single cast will be as follows: Thu July 28 @ 7p, Fri July 29 @ 7p, Sat July 30 @ 2p and 7p.   Thank your for your support of this program. Questions can be emailed to vernaltheatre@gmail.com.
AUDITION NOTICES​
The show runs July 5 through July 30.
​Auditions are open to performers 8 to 16 years of age. All roles are open. Come prepared to sing no longer than 60 seconds of music in a Broadway style. You must bring your own pianist or recorded music (no backup vocals). The time limit will be enforced.
​Bring completed audition form, including any conflicts during rehearsals from July 5th through July 30th along with a color 4×6 headshot.  Callbacks will be by invitation on July 2nd following auditions.
There is a MANDATORY parent/guardian meeting at 6:30pm on Tuesday, July 5.
There is a $25 fee plus $10 per additional family member to participate in 'James and the Giant Peach, JR'.
Email the theatre at vernaltheatre@gmail.com to schedule an audition time. ​Include in the email the auditioner's name and age. Time slots are assigned by age.
Auditions take place at the theatre located at 40 East Main in Vernal. Enter the building through the main doors on the north side. 
Email any questions to vernaltheatre@gmail.com. Do not reach out to the production team individually.
​​
Audition Form & Rehearsal Schedule, Cast Rules and the Theatre Production Guidelines are attached below. Please read each carefully and know the commitment you / your child are making if cast. 
CLICK HERE to print Audition Form.
CLICK HERE to download the Cast Rules.
CLICK HERE to download the VT:L Production Guidelines.
Youth ages 14-18 can apply to be on our Youth Production Team by filling out the following application: https://forms.gle/ZUmj7RQUkNSJSHeq9
AUDITION TIPS FOR YOUTH​
1. Confidence. It sounds simple but it takes practice. Walk in the door with your held head high. Be wary of shuffling feet. Do NOT apologize if you're nervous, not feeling well, or having a bad day. Leave it outside the door. You are being sized up the minute you walk in, so practice good posture and body language before you arrive. And don't forget to smile – that's the lasting impression you want to leave.
2. Connection. Make one with the character you're portraying. Be memorized on your audition material.
3. Find your spot. Wherever it is, there's usually an X on the floor, done with tape. Find it and go stand there to start, but don't stay rooted to that X. Remember, the space is yours for two whole minutes. So feel free to move around.
4. Act. Acting means TO DO, not to talk. Find your actions and play them! (A wonderful resource is the book "Actions: The Actor's Thesaurus" by Marina Caldarone & Maggie Lloyd-Williams.) Think about opposites that can be shown. Yelling isn't the only way to show hatred or anger. Sometimes being quiet as you make your point is a powerful display of emotion. Playing opposites is a much more interesting choice than the obvious. And remember to show variety. Feel the levels and dynamic in the scene.
5. Stick to the time limit. You get 60 seconds starting from the first note. And 60 seconds is plenty. So as to be respectful of everyone's time, cut down your song. Rehearse with a stopwatch to measure how long it is. Then when you get to the audition, you won't be rushed. And if they cut you off, don't take it personally. It doesn't mean you're bad, it means they need to give everyone else time to show too. This is a great way to show consideration for the production team and other auditioners, and show that you can follow instructions which is essential in the theater.