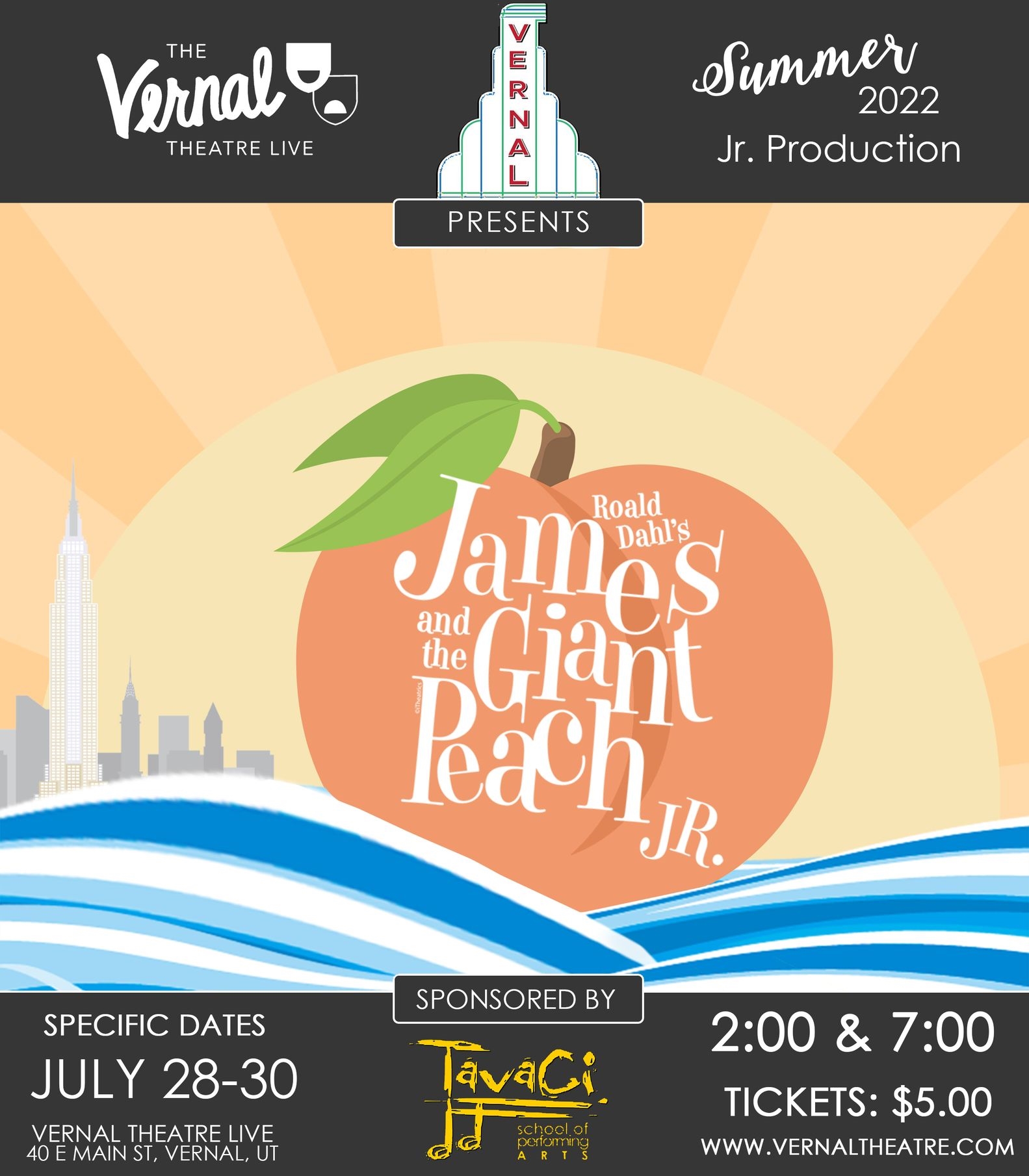 performances July 27 – July 30
james & the giant peach Jr.
SPONSORED BY: Vernal's TaVaci School of Performing Arts
MUSICAL – Based on one of Roald Dahl's most poignantly quirky stories, Roald Dahl's James and the Giant Peach JR. is a brand new take on this "masterpeach" of a tale.  Featuring a wickedly tuneful score and a witty and charming book, this adventurous musical about courage and self-discovery is destined to be a classic.
When James is sent by his conniving aunts to chop down their old fruit tree, he discovers a magic potion that grows a tremendous peach, rolls into the ocean and launches a journey of enormous proportions. James befriends a collection of singing insects that ride the giant piece of fruit across the ocean, facing hunger, sharks and plenty of disagreements along the way leading to family.
Approximate duration: 90 minutes 
Ticket Policies
All sales are final. Please double-check the event date(s) selected. No refunds or exchanges.
All patrons, including children, must have their own ticket. Vernal Theatre: LIVE cannot permit lap sitters.
All seating is assigned. Purchased ticket is good only for the date and seat specified on the ticket.
Doors open 30 minutes before show time. Patrons arriving after the start of the performance will be seated at the discretion of management. Late-comers may have their seats reassigned.
Shows begin at 7pm for all evening performances, 2pm for matinees (where applicable).
THERE ARE TWO CASTS FOR THIS PRODUCTION. Make sure you purchase tickets to the correct performance if you have a cast member you specifically want to see.
GREEN CAST performs Wed PM, Fri PM and Sat AFT.
ORANGE CAST performs Thu PM, Fri AFT and Sat PM. 
James & the Giant Peach JR Cast List
Congratulations to our new cast!
To those who didn't get cast this time: We are so sorry that we couldn't cast everyone – thank you for showing up and being brave and giving your very best. Please come and audition for us again. We loved seeing you and would love to use you in another show.
To those who are on the list below: We are so excited to work with you all. Remember the MANDATORY Parent Meeting Tuesday, July 5 beginning promptly at 6:30pm with the first readthrough immediately following at 7pm. A parent/guardian MUST be in attendance for every student. The doors will open at 6:15pm. The participation fee is DUE at the meeting.
We are off on a fan-tas-ma-rific journey!
Thu / Fri AFT / Sat PM CAST (Orange)
Ladahlord – Isabel Owens
James – Tyson Ottley
Ladybug – Alexis Anderson
Grasshopper – Landyn Anderton
Spider – Elsie Nielson
Earthworm – Bronson Merrill
Centipede – Brianna Anderton
Spiker – Kaidyn Bentley
Sponge – Anjali Anderson
Matron Nurse – Jessley Sheffer
Mr. Trotter – Shaeffer Anderson
Mrs. Trotter – Megan Sheffer
Karl Kreator – Elijah Anderton
Billy Bobby-Cop – Jackson Owens
Bobby Bobby-Cop – Grant Owens
Doreen Driggles – Celeste Bolton
Violet Funkschmeller – RyLeigh Slaugh
Ridgley Rapscallion – Haiden Gaskill
Chris Cryermouth – Zoey Bentley
Ida Walters – Gwen Barker
Bitsy Botana – Abigail Gardner
Buzz – Celeste Bolton
Lucille Van Kooglestein – Charly Poulson
Bunny Mackenzie the Third – Ellamarie Ufford
Rhino – Jayda Ramsey
Cow – Hallie Morton
Horse – MaKayla Adams
Chicken – Naomi Adams
Wed / Fri PM / Sat AFT CAST (Green)
Ladahlord – Emmalee Woods
James – Samuel Ray
Ladybug – Icelynn MacLee
Grasshopper – Kotah Gross
Spider – Sydney Huber
Earthworm – Tyler Clark
Centipede – Helen Spackman
Spiker – A'verie Asay
Sponge – Grace Gale
Matron Nurse – Taysia Tello
Mr. Trotter – Nate Bartholomeusz
Mrs. Trotter – Megan McLaren
Karl Kreator – Philip Spackman
Billy Bobby-Cop – Peter Spackman
Bobby Bobby-Cop – Patrick Spackman
Doreen Driggles – Ruth Spackman
Violet Funkschmeller – Rozlynn Mitchell
Ridgley Rapscallion – Bradley Stoddard
Chris Cryermouth – Payton Boykin
Ida Walters – Sarah Putnam
Bitsy Botana – Evelyn Stoddard
Buzz – Kael Gross
Lucille Van Kooglestein – Addison MacLee
Bunny Mackenzie the Third – Jaidyn Batty
Rhino – Zoey Brokaw
Cow – Saphira Whiting
Horse – Brinsley Thomas
Chicken  – Eva Pipes
PRODUCTION TEAM
Director – Nashelle Jackson
Music Director – Karilynne Pearson
Stage Manager – Emily Walker
Assistant Stage Manager – Isaac Merrick
Costumes – Eliza Anderson
Props – Kristin Meanea