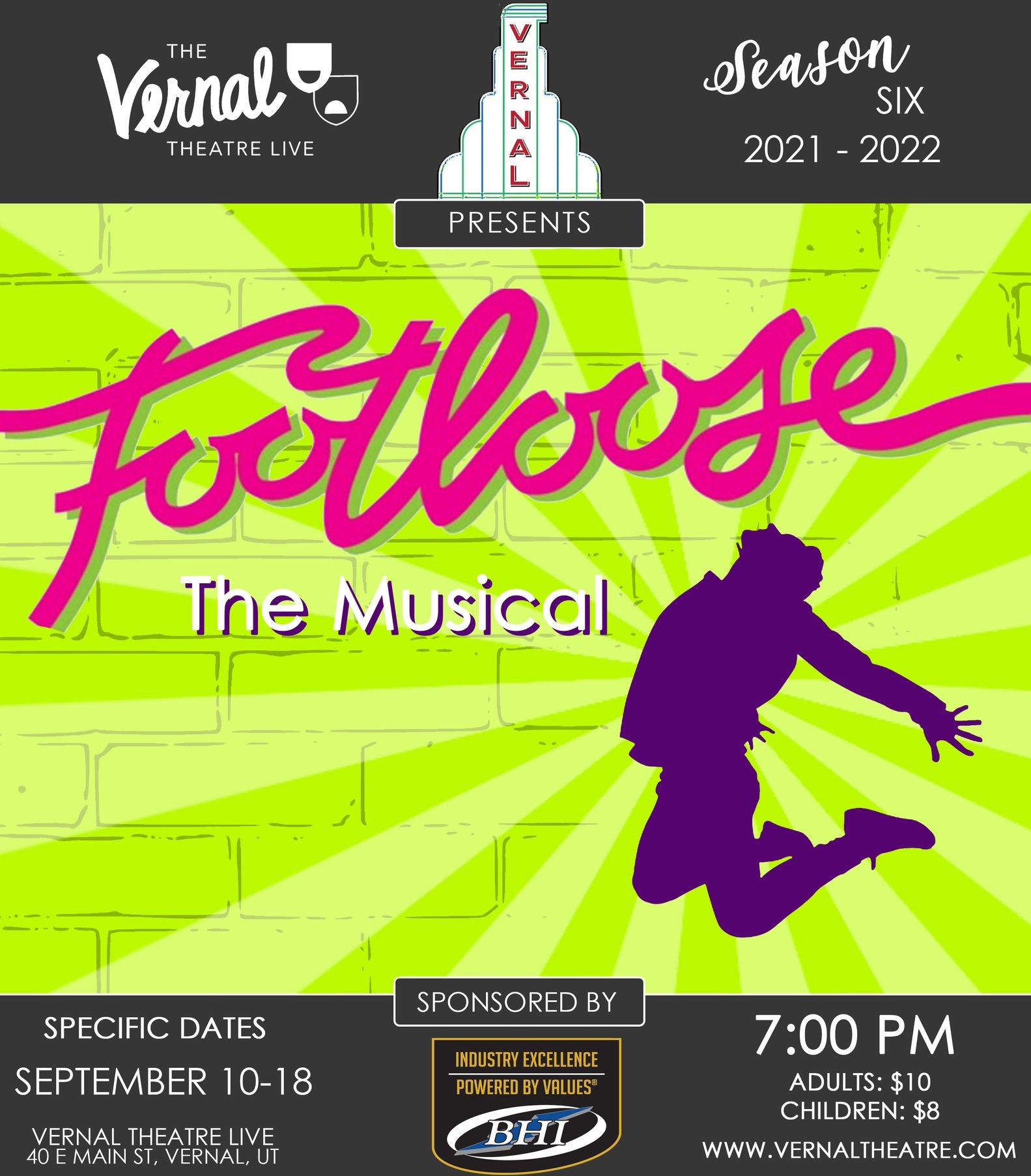 SPONSORED BY: BHI
MUSICAL – When Ren and his mother move to a small farming town, he is prepared for the inevitable adjustment period at his new high school. But he's not prepared for the rigorous local edicts, including a ban on dancing. When the reverend's rebellious daughter sets her sights on Ren, her roughneck boyfriend tries to sabotage Ren's reputation, with many of the locals eager to believe the worst about the new kid. The heartfelt story that emerges pins a father longing for the son he lost against a young man aching for the father who walked out on him.
With dynamic new songs augmenting the powerhouse hits from its bestselling Oscar-nominated score, Footloose celebrates the exhilaration of youth, the wisdom of listening to one another, and the power of forgiveness.
Approximate Duration: 2 Hours 20 Minutes
We are having technical difficulties. Tickets will be available soon.
Footloose – September Cast List
A HUGE thank you to the incredible people who came out for 'Footloose' auditions this week!  Thank you for being so excited about this show. If you were not cast, please audition for us again or consider helping on the production team if you are interested. We are so grateful for your time and sharing your talents with us. We hope to see you at the theatre soon.
If your name is on the list below, email vernaltheatre@gmail.com to accept your role in the production no later than 12pm on Tuesday, July 20. When you email the theatre, you will receive additional information about the first readthrough, receiving your script, etc. Thank you!

Ren McCormack – Brian Smith
Ariel Moore – Sydnie Hanberg
Willard Hewitt – Koy Nielson
Rusty – Alyssa Turner
Wendy Jo – Aurelia Harrison
Urleen – Scotlyn Williams
Chuck Cranston – Derek Meanea
Lyle – Matthew Reed
Travis – Tyler Reed
Jeter – Benjamin Cook
Bickle – Drew Wilhelm
Garvin – Brendon Cook

Rusty's Entourage – 
Madi Haslem
Haylee White
Rachel Gardner
Teen Ensemble – 
Bryce Poulson
Cayden Wells
Joseph Hardin
Courtnie Bartholomeusz
Emma Curtis
Emma Hardin
Eve Hyde
Isabel Owens
Kortlyn Sheffer
Lilly Passey
Ryanna Baldwin
Saliah Anderson
Talia Wilhelm

Reverend Shaw Moore – Michael Gamble
Vi Moore – Danni Harrison
Ethel McCormack – Claire Owens
Wes Warniker – Ezra McHaley
Lulu Warniker – Mandy Cottam
Coach Roger Dunbar – Carl Morton
Eleanor Dunbar – Jessica Evans
Principal Harriet Clark – Kristin Meanea
Cowgirl Callie – Eliza Anderson
Betty Blast – Paige Wardle

Production Team
Directors – Jay Haslem and Molly Haslem
Music Director – Molly Haslem
Choreographer – Taunia Wheeler
Assistant Choreographer – Hannah Benedicto
Stage Manager – Heather Bascom
Assistant Stage Manager – Sherry Brokaw
Costumes – Nancy Walton
Props – Patty Hardinger