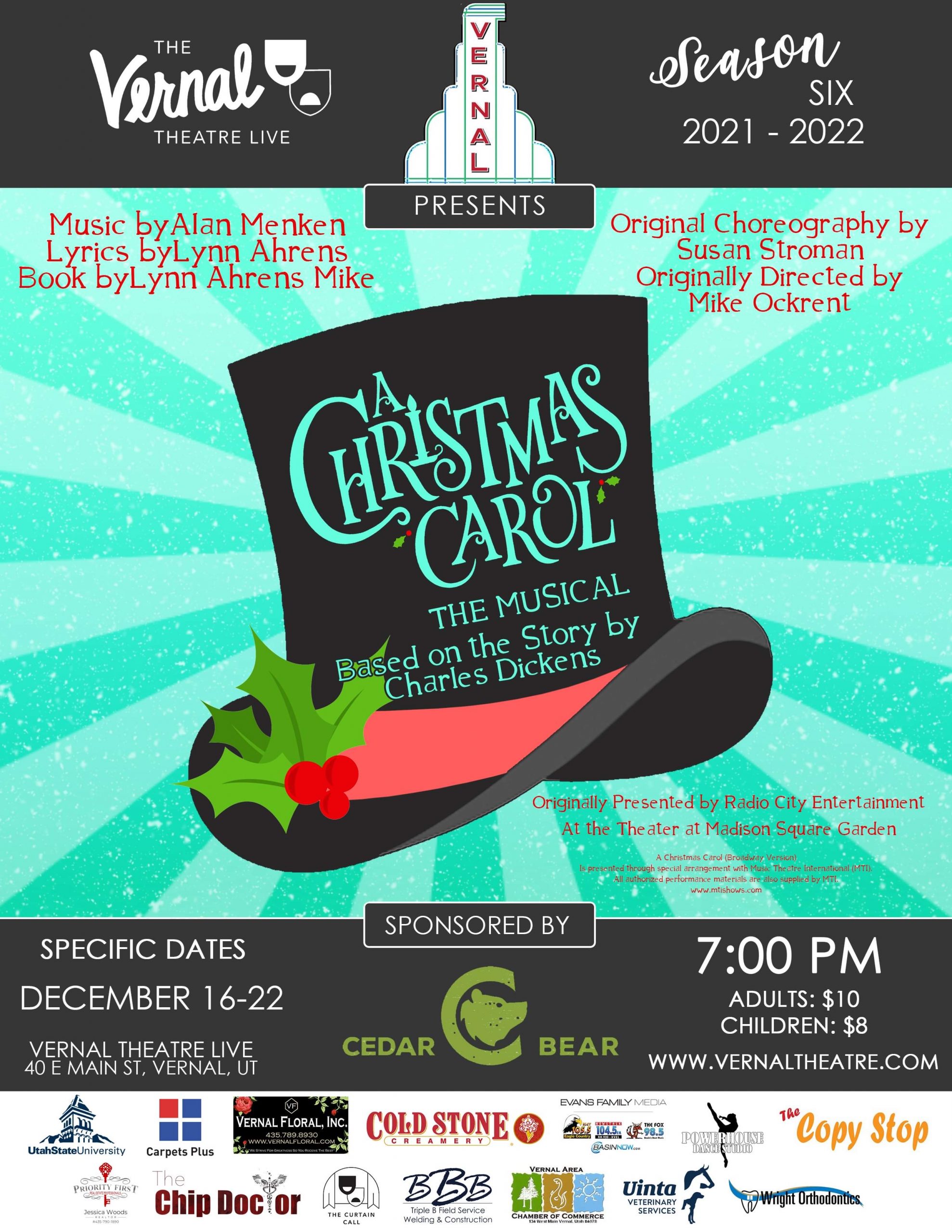 Now Playing
A CHRISTMAS CAROL
SPONSORED BY: CEDAR BEAR NATURALES
MUSICAL – We are so excited to bring back this Vernal Theatre: LIVE family favorite to the stage!
Based on the classic story, Ebenezer Scrooge is a prosperous curmudgeon who believes that personal wealth is far more valuable than the happiness and comfort of others. With an infuriated "Bah! Humbug!" Scrooge summates his feelings of Christmas tidings and charitable giving, but he's forced to face his selfish ways when three ghosts on Christmas Eve lead him through his Past, Present and Future. Thanks to their guidance, Scrooge recognizes his faults and greets Christmas morning with a cheerful "Happy Christmas" before spending the day reconnecting and sharing love with those that mean the most to him.
Broadway heavy hitters, Alan Menken (Disney's Beauty and the Beast, Disney's The Little Mermaid, Little Shop of Horrors) and Lynn Ahrens (Ragtime, Seussical, Once on This Island), breathe fantastic new life into A Christmas Carol.
Approximate Duration: 90 Minutes
Ticket Policies
All sales are final. Please double-check the event date(s) selected. There are no refunds or exchanges.
All patrons, including children, must have their own ticket. Vernal Theatre: LIVE cannot permit lap sitters.
All seating is assigned. Purchased ticket is good only for the date and seat specified on the ticket.
Doors open 30 minutes before show time. Patrons arriving after the start of the performance will be seated at the discretion of management. Late-comers may have their seats reassigned.
Shows begin at 7pm for all evening performances, 2pm for matinees (where applicable).
A Christmas Carol – December Cast List
A HUGE thank you to all of the incredible people who came out for  auditions for 'A Christmas Carol' this week!  We were delighted to see so many of you – many new faces and many familiar. Thank you for being so excited about this show. We are so grateful to have witnessed your courage and talent. 
Unfortunately, we could not cast everyone who auditioned. If you were not cast, please audition for us again! Or consider helping on the production team if you are interested. We are so grateful for your time and sharing your talents with us. You are amazing. We hope to see you at the theatre soon.
If your name is on the list below, email vernaltheatre@gmail.com to accept your role in the production no later than 12pm on Monday, October 25. When you email the theatre, you will receive additional information about the first readthrough, receiving your script, etc. Thank you!
Ebenezer Scrooge – Daniel Wells         
Cratchit / Scrooge's Dad – Derek Meanea   
Mrs. Cratchit – Eliza Anderson
Past / Lamplighter – Korinne Peacock
Present / Sandwich Board – Isaac Merrick
Future / Blind Old Hag – Grace Christiansen
Marley – Parry Peacock
Mrs. Mops  – Rachel Wells
Mr. Smythe / Mr. Fezziwig – Ezra McHaley
Mrs. Fezziwig – Alyssa Turner
Scrooge at 18 – Cayden Wells
Emily – Jinger Axelson
Scrooge's Mom – Kirsten Reynolds
Fred Anderson – Bryce Poulson
Sally Anderson – Sydnie Hanberg
Beadle / Undertaker / Judge – Jeff Hardin
Charity Man / Mr. Hawkins – Mason Miles
Charity Man / Poulterer / Businessman –  Jordan Wagner
Charity Man / Banker – Joseph Hardin
Businessman / Banker – Wyatt Reary
Granny Chuzzlewit – Ashley Slaugh
Rich Wife / Fezziwig Guest – Cecilia Benjamin  
Rich Wife / Fezziwig Guest – Haylee White
Rich Wife / Fezziwig Guest – Jeanette Anderson
Townswoman – Courtnie Bartholomeusz
Townswoman – Darianne Poulson
Townswoman – Emma Helco
Townswoman – Kaidyn Bentley
Townswoman – Maycee Allred
Townswoman – Myka Hansen
Townswoman – Ruby Parrack
Tiny Tim – Kotah Gross
Scrooge at 12  – Bostin Reynolds
Scrooge at 8 / Ignorance – Zekiah Barker
Nikolas – Baden Poulson
Jenny  – Mae Coonradt     
Grace Smythe – Rozlynn Mitchell
Young Fan  – Celeste Bolton
Want / Young Girl  – Leah Wells           
Martha Cratchit – Taylee Wells
Anna Cratchit – Charly Poulson    
Belinda Cratchit – Kiera Meanea      
Young Girl – RyLeigh Slaugh    
Young Girl – Emmalee Woods
Young Girl – MaKayla Sasse
Production Team
Director/Choreographer – Nashelle Jackson
Music Director – Karilynne Pearson
Stage Manager – Ann Barker
Props – Kristin Meanea
Costumes – Holly Allred, Stacey Stamper
Cast Captains – Ashley Slaugh, Cayden Wells, Isaac Merrick, Rachel Wells