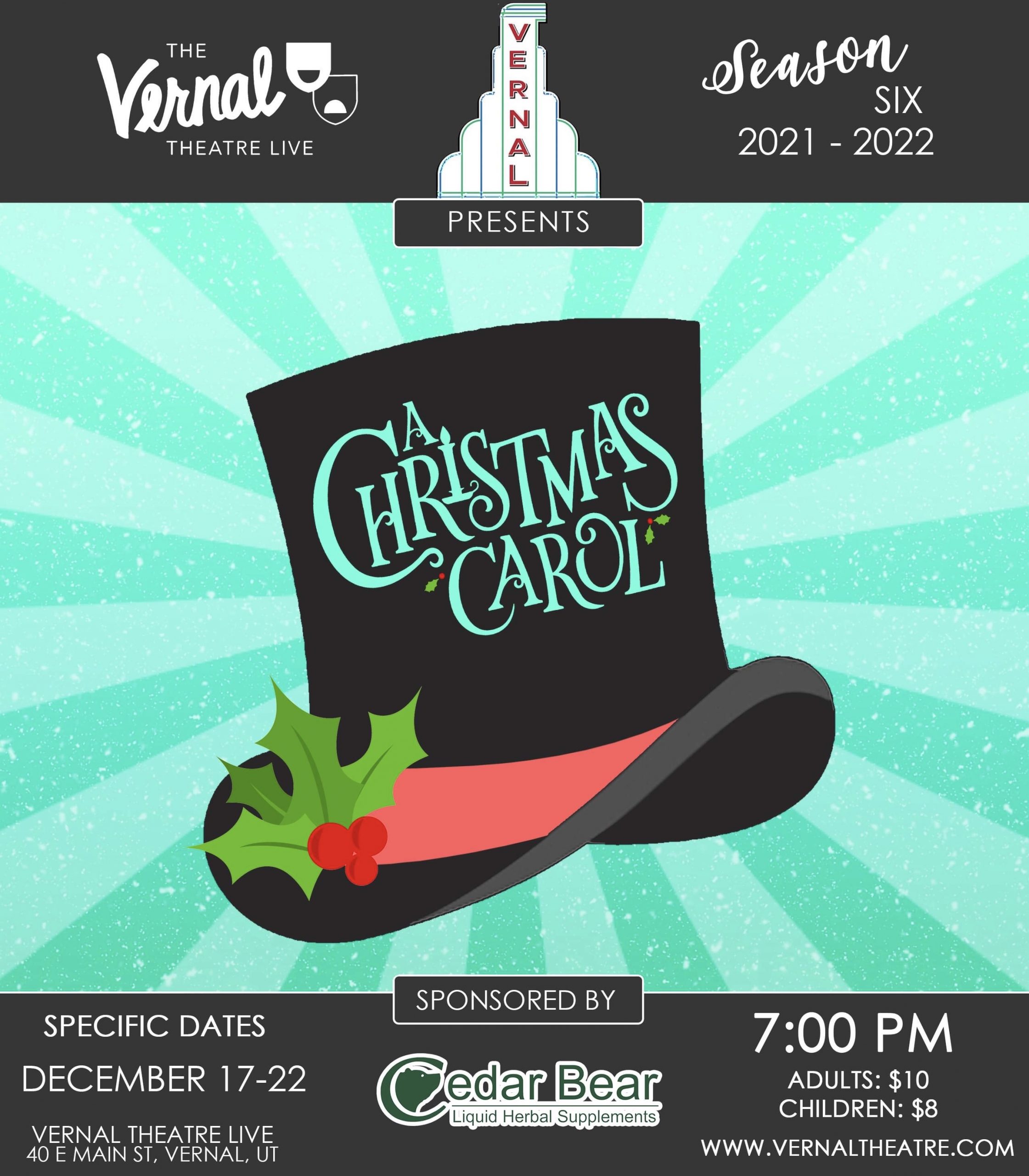 Now Playing
A CHRISTMAS CAROL
SPONSORED BY: CEDAR BEAR NATURALES
MUSICAL – We are so excited to bring back this Vernal Theatre: LIVE family favorite to the stage!
Based on the classic story, Ebenezer Scrooge is a prosperous curmudgeon who believes that personal wealth is far more valuable than the happiness and comfort of others. With an infuriated "Bah! Humbug!" Scrooge summates his feelings of Christmas tidings and charitable giving, but he's forced to face his selfish ways when three ghosts on Christmas Eve lead him through his Past, Present and Future. Thanks to their guidance, Scrooge recognizes his faults and greets Christmas morning with a cheerful "Happy Christmas" before spending the day reconnecting and sharing love with those that mean the most to him.
Broadway heavy hitters, Alan Menken (Disney's Beauty and the Beast, Disney's The Little Mermaid, Little Shop of Horrors) and Lynn Ahrens (Ragtime, Seussical, Once on This Island), breathe fantastic new life into A Christmas Carol.
Approximate Duration: 90 Minutes
Ticket Policies
All sales are final. Please double-check the event date(s) selected. There are no refunds or exchanges.
All patrons, including children, must have their own ticket. Vernal Theatre: LIVE cannot permit lap sitters.
All seating is assigned. Purchased ticket is good only for the date and seat specified on the ticket.
Doors open 30 minutes before show time. Patrons arriving after the start of the performance will be seated at the discretion of management. Late-comers may have their seats reassigned.
Shows begin at 7pm for all evening performances, 2pm for matinees (where applicable).
Production Team
Director/Choreographer – Nashelle Jackson
Music Director – Karilynne Pearson
Costumes – Holly Allred, Stacey Stamper
A Christmas Carol – December Audition Information
Audition Dates: October 19 & 20
Callbacks October 23 by invitation
Director: Nashelle Jackson
A few things to note:
Songs must be memorized and kept to 60 seconds or less. Time limit will be enforced.

Auditioners must provide their own pianist or back up track without vocals.

Be prepared to completely fill out the rehearsal calendar at your 

audition

 with any and all conflicts that may arise during rehearsal. The production team is sacrificing time to be at rehearsals and it is pointless to rehearse with no one there. Be clear on your conflicts. Any conflicts reported after 

casting

 may result in a change of role or require withdrawal from the show. (A tentative rehearsal schedule is attached below. Please know that this is subject to change based on need & availability of cast members.)

Performances are December 16-22. There will not be double-

casting

 therefore actors must be available for all performances.
​​
AUDITION NOTICES​
Auditions will be held October 19 & 20 from 7p to 9p. Callbacks held by invitation October 23 beginning at 10a.
Roles are available for men & women of all ages and youth ages 6 and up. All roles are open.
Children ages 6-15 MUST have a responsible adult over the age of 16 with them at all rehearsals & parent meetings. 
Email

 

vernaltheatre@gmail.com

 

to sign up for an audition time. Include auditioner's age if under 16.
Prepare a Broadway song cut to 60 seconds or less. Time limit will be enforced.
Bring a recent headshot – 4×6 color.
Be prepared to completely fill out the audition form, including the rehearsal calendar with a list of conflicts between October 25 and December 22. 
All auditions are held at Vernal Theatre: LIVE, located at 40 E Main Street in Vernal.
Video auditions are accepted. Email

 

vernaltheatre@gmail.com

 

for information on how to submit your audition and what you will need to submit.
NOTE FROM THE DIRECTOR:
We are delighted to bring back 'A Christmas Carol' for its third Season at Vernal Theatre: LIVE. This family favorite is a beautiful holiday addition and we cannot wait to share it with you. This production is the perfect audition opportunity for new actors and experienced actors. With a variety of roles covering all ages, we love having auditioners young and old joining our production. We ask that all children ages 6-15 who audition have a responsible adult over the age of 16 with them at all rehearsals. This can be a parent, aunt/uncle, sibling, or carpool driver – but needs to be someone who will help the younger children learn good theatre etiquette, make sure they get to and from rehearsal safely and keep them safe on Main Street. This person can be in the production or not, or even a member of the production team. 
We encourage families to audition together for this production, remembering that due to the size of our stage & dressing rooms we cannot cast everyone who auditions. Please be honest on your forms from the beginning so we can be aware of any & all conflicts and put together the best cast for this production.
We look forward to spending the holiday season with you as we create & share this timeless tale with our community.
— Nashelle Jackson
We hope you have an enjoyable experience auditioning and if you do not get cast, please come see the show and audition for future productions. We are also looking for people to help on the production team. If this is something you are interested in, please let us know either by emailing the theatre or filling out the Google form below (scroll past the audition info).
Email any questions to vernaltheatre@gmail.com.
​​
TENTATIVE Rehearsal Schedule attached below. Please know that we are very aware of your time and our own. We will cancel rehearsals if we don't need them and make sure that your time at the theatre is well-spent. Specific people & groups will only need to come specific days and times. Those will be determined specifically after auditions.
Rehearsal Schedule and Audition Form Download
AUDITION TIPS FOR OUR 2021-2022 SEASON
 ​We had an incredible Season 5 at Vernal Theatre: LIVE and cannot wait for Season 6. Below are a few tips and tricks that will help you prepare for auditions. Enjoy and we'll see you at auditions!​
1. Know the expectations and follow them. Read the notices that are posted – every audition is different and may require different things to be prepared. Come ready and knowing what the director expects you to give.
2. Confidence. It sounds simple but it takes practice. Walk in the door with your held head high. Be wary of shuffling feet. You don't get sympathy points if you're nervous, not feeling well, or having a bad day. Leave it outside the door. You are being sized up the minute you walk in, so practice good posture and body language before you arrive. And don't forget to smile – that's the lasting impression you want to leave.
3. Personality. Let it shine through!
4. Connection. Make one with the character you're portraying and the production team. Be memorized on your audition material. Don't ask who they (the production team) are. Introductions waste time, time you could use for showing off your acting chops. They are there to do their job, just like you're there to do your job. You are equals. You're selling, and they're buying. Treat them with respect and courtesy, and they'll do the same.
5. Stick to the time limit. If you prepared a monologue or a song, you (usually) get 60 seconds starting from your first line. And 60 seconds is plenty. So as to be respectful of everyone's time, cut down your monologue or song. Rehearse with a stopwatch to measure how long it is. Then when you get to the audition, you won't be rushed. And if they cut you off, don't take it personally. It doesn't mean you're bad, it means they need to give everyone else time to show too.
Want to be involved but don't want to audition?
Maybe you did theatre in high school or are looking for a creative outlet, maybe your family is auditioning and you want to spend this time with them but don't feel up to singing and dancing. Maybe you want a shorter time commitment or to learn something new – a Production Team is the spot for you! We are always looking for individuals to participate on our Production Teams. You can be part of a crew or be a leader, there is a spot for you. Just fill out the form linked below or email vernaltheatre@gmail.com to learn about opportunities for upcoming productions. We'd love to have you!
Production team form: https://forms.gle/zerXivD8Vzbd5nE78
​
​