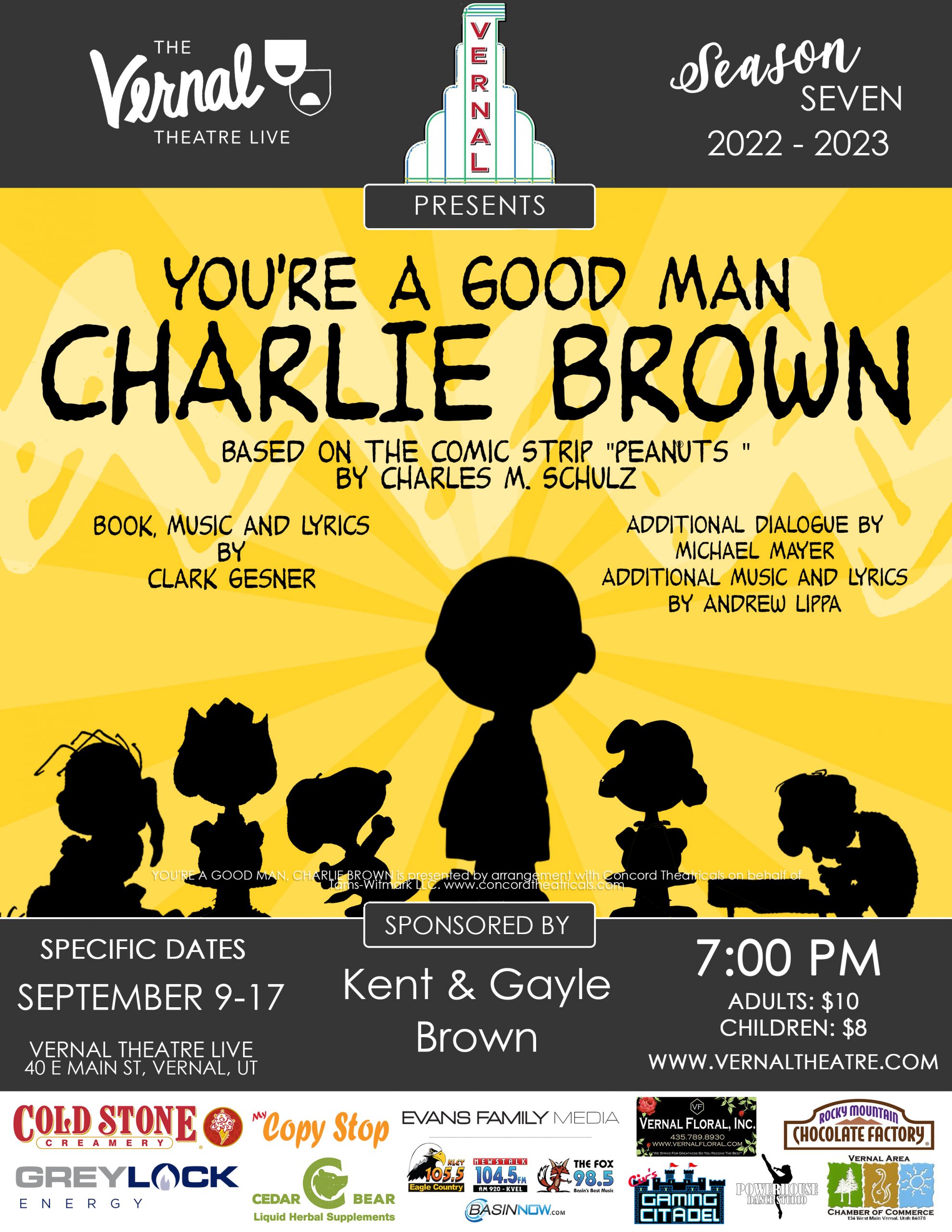 September 9-17
YOU'RE A GOOD MAN CHARLIE BROWN
SPONSORED BY: Kent & Gayle Brown
MUSICAL – Charlie Brown and the entire Peanuts gang explore life's great questions as they play baseball, struggle with homework, sing songs, swoon over their crushes, and celebrate the joy of friendship. Celebrate this returning production with our cast from Season 1!
Approximate Duration: 2 Hours 
Ticket Policies
All sales are final. Please double-check the event date(s) selected. No refunds or exchanges.
All patrons, including children, must have their own ticket. Vernal Theatre: LIVE cannot permit lap sitters.
All seating is assigned. Purchased ticket is good only for the date and seat specified on the ticket.
Doors open 30 minutes before show time. Patrons arriving after the start of the performance will be seated at the discretion of management. Late-comers may have their seats reassigned.
Shows begin at 7pm for all evening performances, 2pm for matinees (where applicable).
You're a Good Man, Charlie Brown – September Cast List
We are thrilled to have our Season 1 cast members returning for this incredible production. "You're a Good Man, Charlie Brown" was our first ever production at Vernal Theatre: LIVE in September 2016 and we cannot wait to kick off Season 7 with this reunion. Don't miss it!
Charlie Brown – Andrew Bentley
Lucy – Claire Owens
Schroeder – Brian Litton
Linus – Daniel Jackson
Sally – Danicia Christensen
Snoopy – Russell Pearson

Production Team
Director – Nashelle Jackson
Music Director – Karilynne Pearson
Stage Manager – Kristin Meanea
Assistant Stage Manager – Ashley Slaugh
Props – McKenna Christiansen
Costumes – Claire Owens, Loralee North