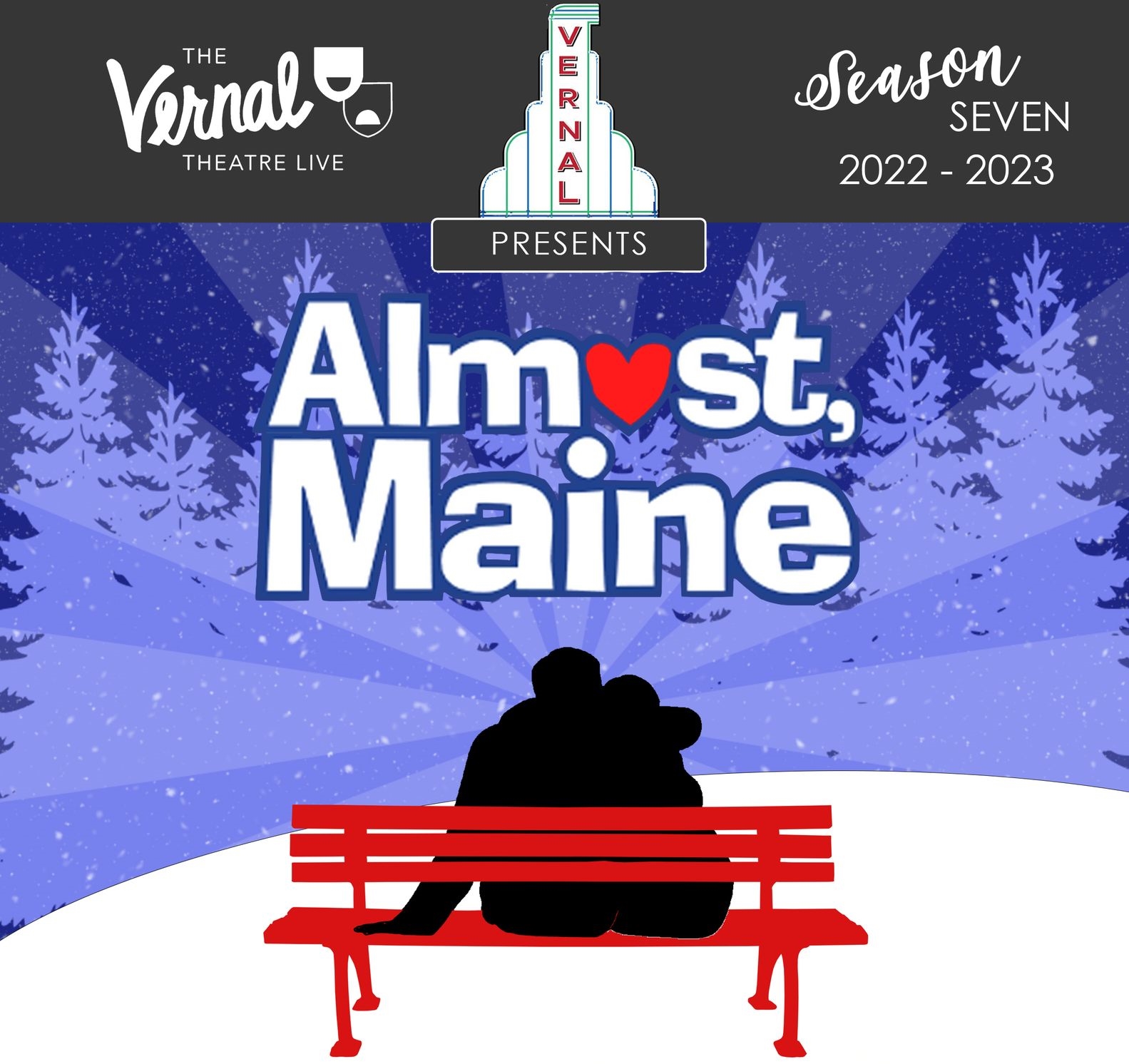 January 13-21
ALMOST, MAINE 
SPONSORED BY: Friends of Vernal Theatre: LIVE
PLAY – Welcome to Almost, Maine, a place that's so far north, it's almost not in the United States. It's almost in Canada. And it's not quite a town, because its residents never got around to getting organized. So it almost doesn't exist. One cold, clear, winter night, as the northern lights hover in the star-filled sky above, the residents of Almost, Maine, find themselves falling in and out of love in unexpected and hilarious ways. Knees are bruised. Hearts are broken. But the bruises heal, and the hearts mend—almost—in this delightful midwinter night's dream.
Approximate Duration: 2 Hours
Ticket Policies
All sales are final. Please double-check the event date(s) selected. There are no refunds or exchanges.
All patrons, including children, must have their own ticket. Vernal Theatre: LIVE cannot permit lap sitters.
All seating is assigned. Purchased ticket is good only for the date and seat specified on the ticket.
Doors open 30 minutes before show time. Patrons arriving after the start of the performance will be seated at the discretion of management. Late-comers may have their seats reassigned.
Shows begin at 7pm for all evening performances, 2pm for matinees (where applicable).
Almost, Maine – January Cast List
A HUGE thank you to all of the incredible people who came out for  auditions for 'Almost, Maine' this week!  Thank you for being so excited about this show. We are so grateful to have witnessed your courage and talent. 
Unfortunately, we could not cast everyone who auditioned. If you were not cast, please audition for us again! Or consider helping on the production team if you are interested. We are so grateful for your time and sharing your talents with us. You are amazing. We hope to see you at the theatre soon.
If your name is on the list below, email vernaltheatre@gmail.com to accept your role in the production no later than 12pm on Monday, November 21. When you email the theatre, you will receive additional information about the first readthrough, receiving your script, etc. Thank you!
Pete – Brian Smith
Ginette – Barbara Dwyer
East- Isaac Merrick
       Understudy- Woodrow Snow
Glory- Ashley Slaugh
       Understudy- Kristin Meanea
Jimmy- Woodrow Snow
Sandrine- Sydnie Hanberg
Waitress- Ashley Slaugh
Steve- Isaac Merrick
Marvalyn- Barbara Dwyer
Gayle- Erin Watkins Smith
Lendall- Derek Meanea
Phil- TC George
Marci- Kristin Meanea
Hope- Erin Watkins Smith
Man- Brian Smith
       Understudy- TC George
Rhonda- Sydnie Hanberg
Dave- Derek Meanea
Production Team
Director – Emily Anne Walker
Stage Manager – Rachel Fuchs
Assistant Stage Manager – Michael North
Costumes – Karen Laub
Props – Heather Bascom